Race for RockeTHON: Students invited to jumpstart fundraising efforts for dance marathon
---
The University of Toledo community is invited to join in racing for a cause this month.
In an attempt to raise money and awareness for UT's annual RockeTHON, a 13-hour dance marathon on campus that collects funds for the local Children's Miracle Network hospital, a 5K fundraiser will be held Saturday, Oct. 24, at 10 a.m. The race will start and end in the McComas Village, where an optional breakfast will be available.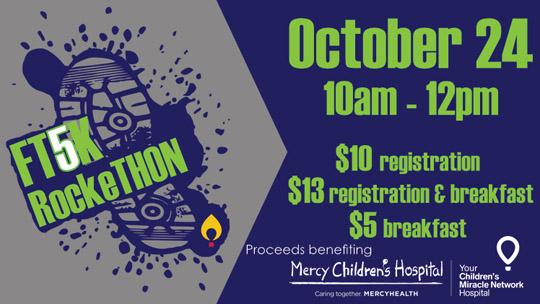 "It's important to participate because all the money goes to the Children's Miracle Network local hospital downtown," said Brandon Alves, co-director of RockeTHON. "We're really trying to make RockeTHON a year-round effort and not just a once-a-year event; the goal this year is to raise more than $130,000."
All funds raised will go into each organization's or person's RockeTHON donor drive. Spirit points will be awarded to three organizations with the highest number of participants and with the most wearing green.
Registration for the run costs $10, breakfast costs $5, or both together for $13, which can be paid at events.dancemarathon.com/event/rockethonFT5K. Laptops will be available on the morning of the event to register as well.
Donations will be accepted until Thursday, Nov. 5. Even if you're unable to participate in the race, making a donation or sponsoring a participant is encouraged, Alves said.
RockeTHON will take place Saturday, April 16, from 10 a.m. to 11 p.m. in Savage Arena.
Since 2001, more than $700,000 has been raised at the annual event; in 2015, more than $106,000 was raised.
For more information, contact Amber Gasparini at 440.653.1149 or amber.gasparini@rockets.utoledo.edu.