Halloween carnival Oct. 22 to help support Diabetic Youth Services
---
The University of Toledo College of Medicine and Life Sciences Pediatrics Club will hold a Halloween carnival with Diabetic Youth Services Saturday, Oct. 22, from 6 to 8 p.m. at Grace Lutheran Church, 4441 Monroe St., Toledo.
More than 3,000 children in northwest Ohio and southeast Michigan have been diagnosed with type 1 diabetes. This event featuring food, games and performances will help call attention to their plight and raise awareness for Diabetic Youth Services, an independent nonprofit in Toledo.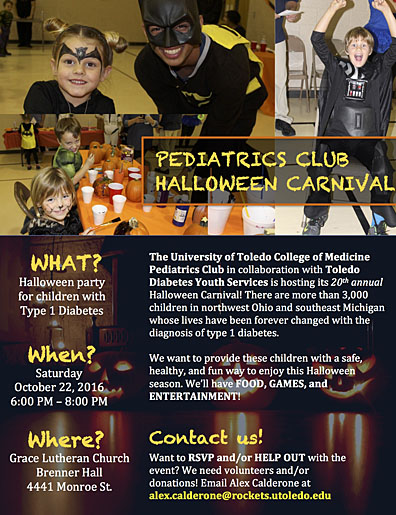 "Diabetic Youth Services is a phenomenal organization with a plentiful collection of resources and fun, informative events to help serve its mission of teaching children to manage their diabetes," Alex Calderone, president of the Pediatrics Club, said.
"The Halloween carnival allows the Pediatrics Club to give our medical student members an opportunity to work with children similar to those they'll care for in the future," he said. "More importantly, the event allows us all to give the diabetic children of Toledo a fun, safe and diabetes-conscious atmosphere to enjoy the usually sugar-heavy holiday."
Calderone added, "As a club, we offer other opportunities for our students to explore the skills and experience needed to practice pediatrics later in their careers, but this event is about giving to the kids above all else."
To RSVP and for more information regarding the event, click here.
For more information about Diabetic Youth Services, visit dys4kids.org.
To donate or offer support for the Halloween carnival or the UT Pediatrics Club, email alex.calderone@rockets.utoledo.edu.