Comets and Rosetta Mission topic of Oct. 21 talk
---
Dr. Joel Parker, space mission manager and director at the Southwest Research Institute, will talk about comets and the ongoing Rosetta Mission to comet 67P/Churyumov-Gerasimenko Wednesday, Oct. 21, at 6:30 p.m. in the Driscoll Alumni Center Auditorium.
"Comets are these icy/rocky bodies left over from the formation of the solar system," said Dr. Michael Cushing, director of the Ritter Planetarium and associate professor in the UT Department of Physics and Astronomy. "They formed early on in the history of the solar system and very little has happened to them in the four and a half billion years since. By studying these nearly pristine relics from that time, we can learn something about how the solar system formed."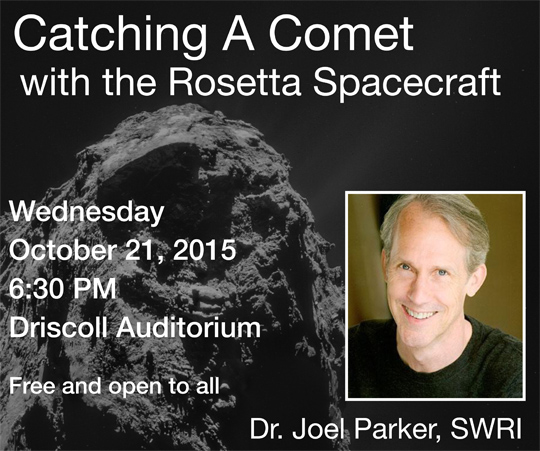 Parker will talk about the ongoing research on comets and the current European Space Agency Rosetta Mission that is the first in history to orbit a comet.
"There have been many missions where a spacecraft has flown by a comet, but this time we've actually gone into orbit around one and even dropped a lander on its surface," Cushing said.
The free, public seminar is part of the UT Department of Physics and Astronomy's Colloquium Series.
For more information, contact Cushing at michael.cushing@utoledo.edu.