Author to discuss campus racism at diversity dialogue Oct. 24
---
The latest installment to the Dialogues on Diversity and Inclusion series will take place Monday, Oct. 24, at 7 p.m. in the Student Union Auditorium.
"Know Better/Do Better: Deeper Reasons Why Campus Racism Exists" will be presented by Lawrence C. Ross, author of The Divine Nine and Blackballed. This lecture will focus on why campus racism exists and how to overcome it.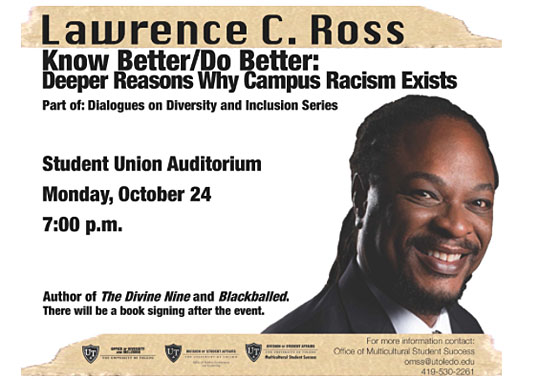 Ross' lecture will cover the systemic racism that has been observed on college campuses for generations and has been ignored. Ross looks at it from four different viewpoints: policy, symbolism, overt racist acts and racial micro-aggressions.
"As you've seen over the past couple of years, there's been more than 100 different campus racism protests, and it's evident that colleges and universities aren't prepared to handle it," Ross said. "Colleges and universities are places where we educate our future leaders, and if they're not fostering an environment that is racism-free, or creating an inclusive environment, what does that say for the future of American society?"
The lecture will be followed by a question-and-answer session and a book-signing event.
Henderson Hill, assistant dean of multicultural student success, said the decision to spotlight this topic was influenced by questions and concerns about current racial tensions and issues around the country.
"I think that people should attend this discussion because it is an opportunity to have a program facilitated by a content expert who does work related to race, culture and inclusion," Hill said.
Ross was chosen to speak after a group of students heard him at a national conference and felt that he would be a good fit for the series.
"Our students were impressed by Lawrence Ross, and we are extremely excited for him to visit the University and share his powerful point of view on why racism still exists on college campuses and how we can all work together to create an environment where all feel like they belong," Dr. Willie McKether, UT vice president for diversity and inclusion.
McKether led UT's effort to create a strategic plan for diversity and inclusion, which is available on the Office for Diversity and Inclusion website at utoledo.edu/diversity.
According to Ross' website, his newest book, Blackballed: The Black and White Politics of Race on America's Campuses, tackles the historical and contemporary issues surrounding campus racism.
"Racism isn't about false equivalence, or 'I just feels…'; campus racism has a real-life effect on the students who are the targets and those who do the targeting," Ross said. "To get a comprehensive understanding of it, people should get out of their own myopic point of view and see how deep the problem is."
Ross' visit is sponsored by the offices of Diversity and Inclusion, Multicultural Student Success, and Student Involvement and Leadership.
"It is really important for all students to come out to hear Lawrence Ross and other speakers like him," Donovan Nichols, assistant dean for student involvement and leadership said. "It is an opportunity for students to dig deeper and gain more understanding about an issue that is extremely prevalent in our nation and on our campus."
For more information on the free, public event, contact the Office of Multicultural Student Success at 419.530.2261.