UT pharmacy students host bowling tournament to support cancer patients
---
A pair of University of Toledo pharmacy students are on a roll when it comes to fighting cancer.
Jacob Garfield and Ryan Brown teamed up last year to create "Strike Out Cancer," a bowling tournament to benefit UT Health's Eleanor N. Dana Cancer Center. Nearly 80 teams participated, raising more than $2,500.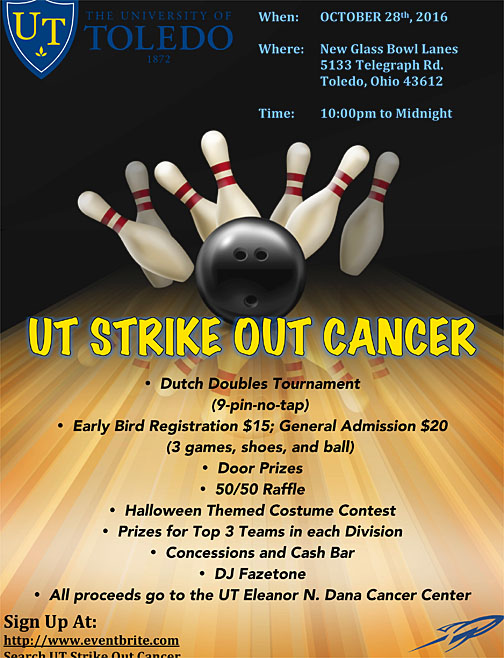 "We received so much positive feedback after last year's event and had so much fun, we decided to do it again," Brown said. "We have room for 360 bowlers and would love to fill all the spots. We are aiming to double our donation to the Dana Cancer Center this year."
The second annual "UT Strike Out Cancer" bowling tournament will be held Friday, Oct. 28, from 9:30 p.m. to midnight at New Glass Bowl Lanes, 5133 Telegraph Road. The evening also will include a Halloween costume contest, door prizes, a raffle, music, concessions and a cash bar.
The tournament is a 9-Pin No Tap Dutch Doubles format.
"In this style of play, taking down nine pins equals a strike," Garfield said. "Teams of two bowlers will play alternate shots throughout the game, with the only time one of the pair completes a frame alone is when scoring a strike."
Teams will play three games with each game adding to the team's final score. The top team in each division — all male teams, all female teams and co-ed teams — will win a cash prize, Garfield said.
Chris Kosinski, Dana Cancer Center clinic manager, said funds raised from the event support patients undergoing chemotherapy and radiation treatment.
"Patients received integrated supportive therapies, including therapeutic hand massages and guided imagery," he said. "These techniques help patients manage the physical and emotional stress that cancer treatment can cause. They help to support the patient's stamina and well-being, and we are grateful for the work Jacob and Ryan have done to raise funds for this type of care."
Registration is $20 and includes three games and shoe and ball rental. Teams can register here before Tuesday, Oct. 25, or at the event.