Local woman needs votes to become CNN Hero of the Year
---
After her father witnessed a drowning when he was young, Wanda Butts was raised with no exposure to swimming and in turn raised her son the same way.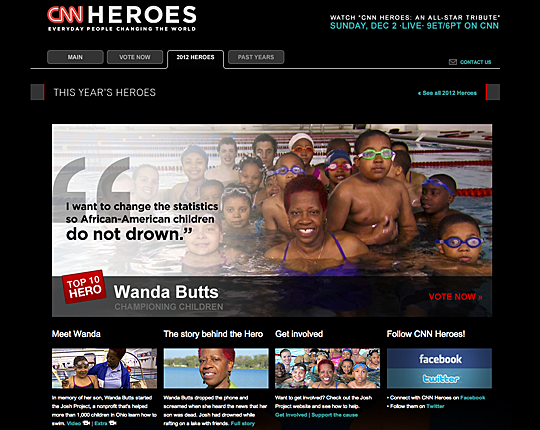 When her 16-year-old son drowned in 2006, Butts knew she didn't want another mother to experience the pain she felt, so she started the Josh Project. This organization, named after her son, has taught more than 1,200 children and adults how to swim.
"I believe that swimming is a basic life skill," Butts said. "The younger one can begin learning this skill, the better."
In five years, the project has grown, and more children join every day. Since May, the Josh Project has been housed on the Scott Park Campus of Energy and Innovation in The University of Toledo Minority Business Development Center, which helps small minority businesses reach their potential.
Now Butts has a chance to be recognized nationally for her work — as CNN Hero of the Year. With the help of supporters, Butts can win not only recognition, but also a cash prize that could help the Josh Project immensely.
Butts has been honored by CNN for her dedication to the safety of children in the Toledo area. By offering low-cost swimming lessons, she is saving lives every day — and children love to show off their T-shirts that say "I can swim."
Though the organization's main focus is teaching people how to swim, Butts realizes that this is only half the battle of water safety. That's why the organization also teaches children how to be safe while swimming and educates parents on how to use life vests correctly and what to do in a water emergency.
The organization has a large focus on minority children because they are three times more likely to drown than children who are white. Lessons are given to any child, though, because drowning is the second leading cause of unintentional injury or death for children ages 1 to 14.
The Josh Project also has inspired others to start similar initiatives where they live. In Norfolk, Va., professional swimming coach Shaun Anderson established the Josh Project at Norfolk State University.
Butts made it to the top 10 CNN Heroes of the Year and is vying for the top honor with nine people who are changing lives all over the world. For her to win first place — a cash prize and training from the Annenberg Foundation — she needs supporters to vote for her at cnn.com/heroes from now through Wednesday, Nov. 28. Each person can vote 10 times a day.
The Josh Project is assisted in its efforts by UT's Minority Business Development Center, the Toledo Sail & Power Squadron, the U.S. Coast Guard Auxiliary 9th District, the Ohio Department of Natural Resources and the Greater Toledo Aquatic Club.
Butts said she hopes to see water safety training included in the Toledo Police Department's Safety City. The program teaches children about traffic safety with the use of bicycles.
Every year on Dec. 9, which is Josh's birthday, the organization hosts a fundraiser. This year's event will be held from 3 to 6 p.m. at the Ramada Inn, 3536 Secor Road in Toledo. Tickets are $50 per person. Bruce Wigo, executive director of the International Swimming Hall of Fame in Ft. Lauderdale, Fla., will be the keynote speaker.
To learn more about the Josh Project, visit joshproject.org and be sure to tune in to CNN Sunday, Dec. 2, at 9 p.m. to watch "CNN Heroes: An All-Star Tribute."