Attend third be-WISE-er event Oct. 25 to learn how to combat substance abuse
---
The University of Toledo Chapter of Alpha Kappa Psi, the nation's largest and oldest co-educational professional business fraternity, is hosting its third be-WISE-er event on substance abuse Wednesday, Oct. 25, from 6 to 8 p.m. in the Thompson Student Union Auditorium.
Several community organizations will provide information about what people can do if they or someone they know is addicted to harmful substances. Staff from UT Health Science Campus will be present with some simulators and will teach attendees how to administer intranasal naloxone.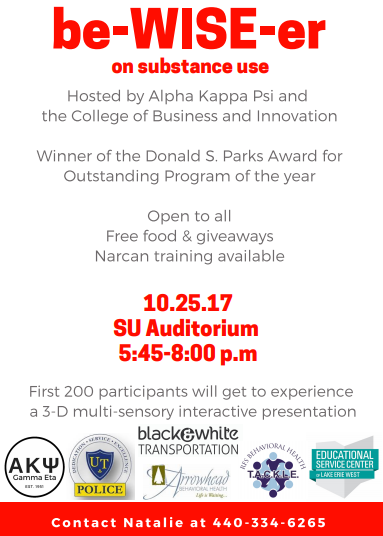 "We are proud to present this free community event to continue the fight against the crippling issue of substance abuse," said Natalie Zerucha, organizer of this event and a senior human resource management and marketing major in the College of Business and Innovation.
"Alpha Kappa Psi is truly humbled by the community's support of our first two be-WISE-er events, and we are doing our best to make our third event even better so we can have as big an impact on the city as possible," Zerucha said. "We truly believe we can help build a better college community, as well as a better Toledo."
Be-WISE-er is open to the community, but will focus on college-age individuals who are at a particularly high-risk of becoming addicted to alcohol and other drugs. More than 600 people participated in the first two be-WISE-er events.
"Participants will also get to experience a 3D multisensory interactive presentation that will show the devastating effects of driving and drinking," Zerucha said. "The first 200 participants will get to experience the 3D part of the presentation, so come early to get your glasses."
There will be food, free T-shirts, raffle prizes and more at the free event.
For more information, go to facebook.com/bewiseer.