UT:10 News finalists in national college broadcasting
---
The UT:10 student-run television newscast was selected as a top four finalist for two broadcasts in a national competition held by College Broadcasters Inc., an organization that includes members from U.S. collegiate radio, television, webcasting and other media programs.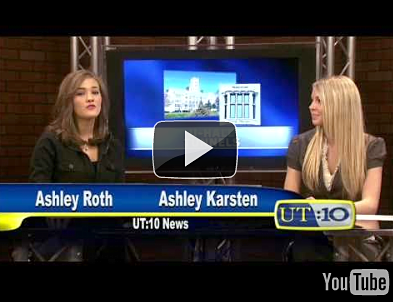 The nominated segments are "UT Myths and Legends" about the urban legends on campus such as the origins of Centennial Mall in the category of Best Special Broadcast and "March 29 Sports" coverage of the WNIT basketball playoffs in the category of Best Sportscast.
"The work is nationally recognized," said Dr. Jackie Layng, professor of communication and faculty adviser for UT:10 News. "Our students are competing against larger, more established programs. For example, our sports newscast is up against a sports segment from Syracuse. Syracuse has had a focused sports broadcasting program for more than 40 years, while this class has only been around for seven."
The awards will be given out at College Broadcasters Inc.'s national conference. Ashley Karsten and Carina Cornieles, student producers of UT:10, will attend the awards ceremony Wednesday through Friday, Oct. 26-29, in Orlando, Fla.
Karsten has worked with UT:10 for three years, and Cornieles has been involved for two years.
"Without these women, without the work and coordination they put into it, the segments would not have been at the level they're at now," Layng said.
"I learned everything I know about broadcasting in this class and the other communication classes; without them, I wouldn't know what I'm doing," Karsten said. "My high school didn't have a program, so I came in not knowing anything."
"Not many students get to do things like this," Cornieles said. "We have the opportunity to meet professionals and hand out our resumes; this is a great opportunity for Ashley and I. We want to thank everyone who helped us get here: the Communication Department, the Alumni Association and other people who donated to the program."
Layng said she hopes the newcast can grow with the recognition from College Broadcasters Inc. to a more rigorous program with more faculty.
"I'm so incredibly proud of the students and staff," Layng said. "They've exceeded all my expectations. They've done such remarkable work."