Indoor tailgate party planned prior to Rockets' game vs. Northern Illinois Nov. 3
---
An indoor tailgate party will be held in Savage Arena prior to the nationally ranked Toledo Rockets' football game vs. Northern Illinois Tuesday, Nov. 3.
The party will begin at 6 p.m., two hours before UT's showdown with the Huskies. Two packages are available to purchase and both include an all-you-can-eat buffet and two beverage tickets.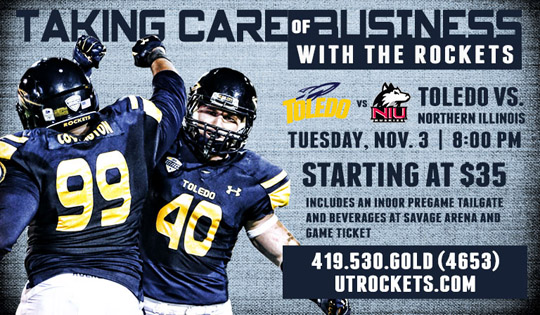 Tailgate Package A is priced at $40 and includes a game ticket in Sections 3, 7, 24 or 25. Tailgate Package B costs $35 and includes a game ticket in Sections 1, 2, 8, 10, 26 or 27. Fans can visit UTRockets.com to view a seating chart.
If fans already have tickets to the game, they can purchase a ticket the tailgate party for $20 each by Thursday, Oct. 29.
Ticket packages can be purchased at the UT Ticket Office, by calling (419) 530-GOLD (4653), or mailing in this form the UT Ticket Office. A $6 flat fee will be charged for phone and mail orders.
Individuals have until Thursday, Oct. 29, to sign up for the indoor tailgate party.
For more information, contact Matt Ritchie at matthew.ritchie@utoledo.edu or 419.530.5124.