Rocket basketball to Host 'Tricks, Treats and Dunks' season preview Oct. 29
---
The University of Toledo basketball teams will host "Tricks, Treats and Dunks," a special season preview, Thursday, Oct. 29, at 6 p.m. in Savage Arena. Admission is free.
The evening will begin with trick-or-treating from 6 to 7 p.m. at stations located in the arena concourses. Fans can dress in their Halloween costumes and get treats and prizes.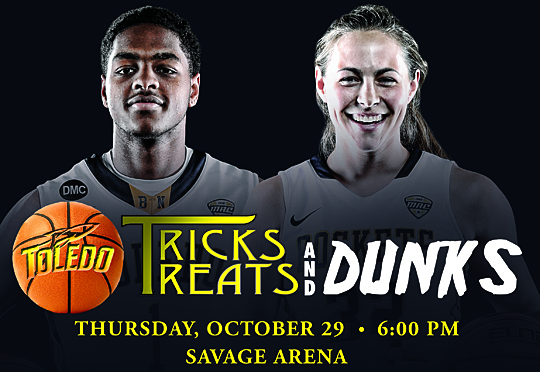 Free schedule posters will be provided for fans to get autographs from UT men's and women's basketball players.
At 7 p.m., the fun moves to Nichols Court, where a contest for best Halloween costume will be judged. Prizes will be given out to best costumes for children. There also will be raffle prizes for both fans and UT students throughout the night.
Following the Halloween costume contest, the 2015-16 UT men's and women's basketball teams will be introduced. The Rockets will participate in an all-star shootout that will feature a player, a Rocket Kids Club member, and either a UT student or fan.
The event will conclude with a slam-dunk contest for the men's team.
Fans will be able to purchase snacks from the concession stands as they watch the action and listen to music played by a DJ.
The UT men's team is coming off its second straight 20-win season in 2014-15. The Rockets return two starters from last year's team, senior center Nathan Boothe and junior guard Jonathan Williams, as well as three key reserves, junior guard Jordan Lauf, junior center Zach Garber and sophomore guard Stuckey Moseley. Head Coach Tod Kowalczyk also will add seven newcomers to the lineup this season.
Head Coach Tricia Cullop welcomes back six players who started at least 10 games for the UT women's team last year; these include sophomore guard Jay-Ann Bravo-Harriott, who was the 2014-15 MAC Freshman of the Year.
Free parking will be available in lots 3, 4 and 5 adjacent to Savage Arena.
The UT Athletic Ticket Office will be open during the event for fans who wish to purchase season tickets or who want more information about tickets. Fans also may call 419.530.GOLD (4653) for more information.