Professional development events available to UT women in science fields
---
University of Toledo female students, staff and faculty interested in science, technology, engineering, mathematics and medicine (STEMM) fields are encouraged to take advantage of upcoming Association for Women in Science (AWIS) opportunities.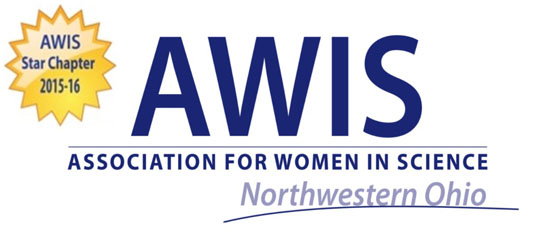 "The Association for Women in Science is the largest multidisciplinary organization for women working in STEMM," said Dr. Susanne Nonekowski, associate lecturer in the Department of Medicinal and Biological Chemistry and president of the AWIS Northwestern Ohio Chapter. "These events are designed to support equity and full participation of women in all science-related disciplines and across all employment sectors."
A workshop for preparing a professional social media profile titled "How to Craft the Perfect LinkedIn Profile in 30 Minutes" will take place Wednesday, Nov. 2, from 4 to 5:30 p.m. in the Martin Conference Room of the Frederick and Mary Wolfe Center on Health Science Campus.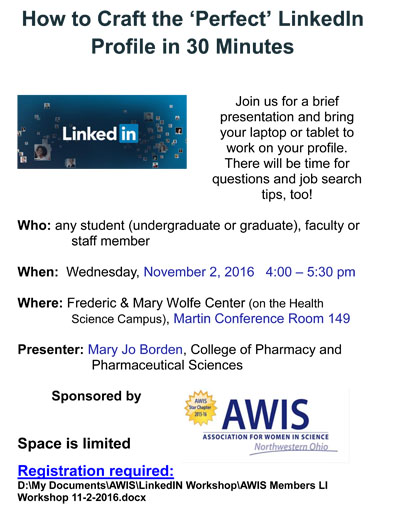 Mary Jo Borden, practicum coordinator in the College of Pharmacy and Pharmaceutical Sciences, will share best practices for creating a presence online and explain how to use LinkedIn's search functions to build a professional network. A photographer also will be on hand to take professional headshots.
"This workshop will be valuable to students, faculty and staff," Nonekowski said. "Whether you are new to LinkedIn or if it has been a while since you updated your profile, this event will have you looking your best online."
The group also is seeking individuals interested in becoming members of its Mentorship Circle.
"We are looking for anyone interested in connecting with other women in the STEMM fields in order to build relationships and learn from those who were once in their shoes," Nonekowski said. "Mentors can be from any science-related career field, whether academic or professional. We want individuals who are motivated and interested in supporting other women as they grow in STEMM careers." 
Mentors and mentees will be paired according to career interest and meet once a month throughout the academic year.
"The Mentorship Circle is in the planning stages, but we want to be sure that everyone who is interested has the chance to join us before mentoring teams are established," she said. "There have been several successful Mentorship Circles across the country, and we are excited to bring this program to the Toledo area."
Nonekowski said UT is an institutional partner with AWIS, which means any undergraduate or graduate student enrolled in a STEMM field can register with the organization for free at awis.org/utoledo. When registering, students should be sure to choose the Northwestern Ohio Chapter to be notified of local activities.
"We are grateful to the University for their support of AWIS," Nonekowski said. "This partnership is instrumental to the support of female science students and professionals across northwest Ohio."
For more information about AWIS, to join the Mentorship Circle, or to register for the LinkedIn event, call 419.530.1979 or email susanne.nonekowski@utoledo.edu.