Two Department of Music concerts offer variation on Halloween theme
---
The University of Toledo Department of Music will present two Halloween-themed concerts, but each will offer a performance distinctly different from the other.
On Friday, Oct. 28, at 7 p.m., the UT Concert Chorale will perform "Totentanz" ("Dance of Death"), a choral arrangement by Hugo Distler of Franz Liszt's famous work.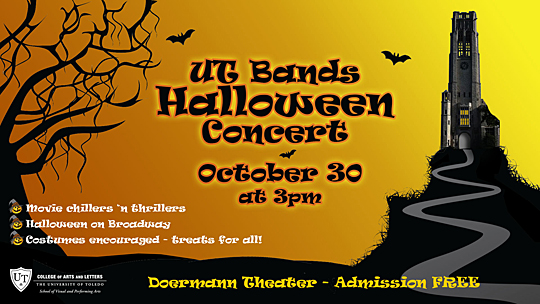 Then on Sunday, Oct. 30, the UT bands will perform a program of chillers and thrillers from classical music through modern Broadway hits.
Distler's "Totentanz" was written while he was an organist at a church in Lübeck, Germany, when the Nazis were in power and fear of death dominated thoughts daily. After seeing the wall mural of the Dance of Death in St. Mary's Church, he decided to write a choral work set to Liszt's music, telling the stories of the characters in the mural as they make their fateful dance with death.
UT's performance also will feature a multimedia presentation created by UT film student John Leo. In addition, the evening will showcase rarely performed selections from Distler's "Elf kleine Klavierstucke für die Jugend" ("Eleven Short Piano Pieces for Youth") played by piano performance major Mercy Olson.
The "Totentanz" concert will be held in the Center for Performing Arts Recital Hall.
The UT Bands Halloween concert will be held Sunday, Oct. 30, at 3 p.m. in Doermann Theater.
The University Wind Ensemble and Symphonic Band will perform music from Hollywood's scariest movies, a medley of haunting Broadway hits, as well as spine-tingling selections of classical music.
Costumes are not required, but are highly encouraged for this family-friendly event, where treats will be provided.
For more information on the free, public concerts, visit the UT Department of Music at utoledo.edu/al/svpa/music.