Alumna to give lecture Nov. 1 on Islam in France
---
"Islam in France Secular Society" will be discussed Wednesday, Nov. 1, at 1 p.m. in Memorial Field House Room 2420.
Mariah Pasternak, who graduated summa cum laude this year with a bachelor of arts degree in French, will deliver the lecture hosted by the Department of Foreign Languages and Literature.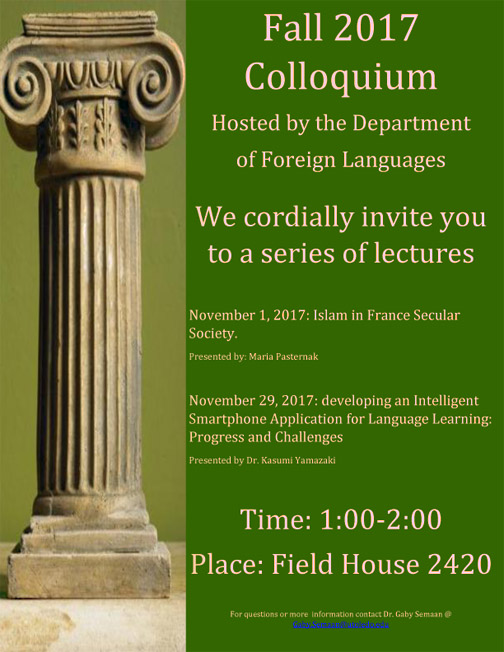 Her lecture will cover information from surveys she conducted in Pau and Lyon, France. These surveys asked people for their opinions about secularism in France and about their perceptions of Islam. She also will give some background about secularism in France, as well as cover some information about Islam.
"This topic is crucial today because as Western societies become more and more multicultural and terrorism becomes more frequent, there is a need to evaluate opinions people in the West have about Islam and its integration in society," Pasternak said.
She came up with this topic due to her contact with Muslim students on the UT campus, as well as her interest in French politics.
"I felt concerned about some of the comments from the French far right and wanted to investigate how much impact those ideas had on people," Pasternak said.
She began her research on this topic during her freshman year as an undergraduate for an honors project. Afterward, she decided to expand upon her research and create a survey project.
"Students should attend this talk because the college-age generation will eventually lead the way in deciding how to work with multiculturalism, immigrants and the Muslim community to find solutions during times of societal tension and terrorism," Pasternak said. "As a part of this future effort, today's students will have to consider the balance between religion and state separation and religious expression."
For questions or more information, contact Dr. Gaby Semaan, director of Middle East studies and assistant professor of Arabic, at gaby.semaan@utoledo.edu.