Rockets ready to hit hardwood to open 2017-18 campaign
---
Men's Head Basketball Coach Tod Kowalczyk was beaming and upbeat after the Rockets' first official practice earlier this month.
"I'm really excited about the group we have and can't wait to get going," said Kowalczyk, who has guided the Rockets to the second most victories (81) in the Mid-American Conference over the last four years. "I believe the biggest strength of our team this season is going to be our versatility. We have a lot of length; we're not a big, physical team, but we are long and athletic.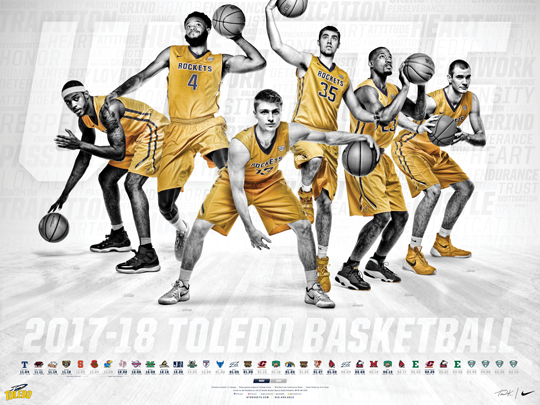 "I also think we'll be able to cover some ground defensively. I hope that provides us the chance to play with more versatility defensively and with different types of lineups."
The Rockets are returning a pair of starters, as well as one of the MAC's top reserves in 2017-18. Junior point guard Jaelan Sanford is UT's top returning scorer after tallying 13.6 points per game and a 39.2 three-point field-goal percentage last year. Junior forward Nate Navigato registered 9.5 points per game and a 40.8 three-point clip coming off the bench, while sophomore center Luke Knapke notched 6.9 points per game and 3.8 rebounds per game in his initial season at the collegiate level.
UT also is gaining the services of a pair of impact transfers in senior guard Tre'Shaun Fletcher (7.1 points per game and 2.4 rebounds per game at Colorado) and sophomore forward Willie Jackson (5.9 points per game and 4.6 rebounds per game at Missouri). Jackson will not be eligible to play for the Rockets until the conclusion of fall semester.
The Rockets will play their only home exhibition game Saturday, Nov. 4, at 2:30 p.m. vs. NCAA Division III foe Trine University. The contest will follow the Rocket women's exhibition contest vs. Lock Haven (Pa.) University.
Toledo will open its regular season with three straight contests in Savage Arena, beginning with its home opener vs. Saint Joseph's Saturday, Nov. 11, at 7 p.m.
The nonleague slate consists of seven home dates and six road contests, including trips to Phog Allen Fieldhouse vs. Kansas, the Carrier Dome vs. Syracuse, and the historic Palestra vs. Penn.
"I thought our schedule last year was tremendous in terms of challenging us, and this year's version is even better," Kowalczyk said. "We're playing at Kansas and Syracuse as part of the HoopHall Miami Invitational and have the unique opportunity to play in the Palestra, which is regarded as the most storied gymnasium in the history of collegiate athletics. I also think we have a good home schedule against quite a few strong mid-major programs, and I believe playing three straight early home games really helps us."
After tipping off the season Nov. 11 in Savage Arena, Toledo will stay home for two more contests against NCAA Division III foe Ohio Northern Nov. 14 and 2016 NIT participant Oakland Nov. 18. The Rockets then will venture on the road for games at 2016 NIT participant Syracuse Nov. 22, Cornell Nov. 24, and 13-time defending Big 12 Champion Kansas Nov. 28.
UT will open the month of December with four of five games in Savage Arena, starting with a Dec. 2 matchup vs. 2016 NCAA Tournament participant Texas Southern. After making a short trip up I-75 to take on Detroit Mercy Dec. 6, the Rockets will host Marshall Dec. 9, Wright State Dec. 16 and Jackson State Dec. 20. Toledo will wrap up its nonconference slate with road contests against Cleveland State Dec. 23 and Penn Dec. 29.
The first two MAC contests in 2018 will be nationally televised. The Rockets' road game against Buffalo Jan. 2 and home matchup vs. Akron Jan. 5 will be shown on the CBS Sports Network. UT's matchup at Akron Feb. 3 also can be seen on the CBS Sports Network.
After its opening week of nationally televised games, the Rockets will host Western Michigan Jan. 9 before playing three of their next four contests away from Savage Arena. UT will visit Central Michigan Jan. 13 and Ohio Jan. 16 before entertaining defending MAC Tournament Champion Kent State Jan. 20. Following a trip to Kalamazoo, Mich., to battle the Broncos Jan. 23, Toledo will finish the month of January with home dates vs. archrival Bowling Green Jan. 27 and Ball State Jan. 30.
UT will open February with a rematch at the Zips Feb. 3 before hosting Northern Illinois Feb. 6 and Ohio Feb. 13. A contest at Miami Feb. 10 splits up the Midnight Blue and Gold's home encounters vs. the Huskies and Bobcats. The Rockets then will visit Ball State Feb. 17 before meeting Eastern Michigan for the first time Feb. 20 in Ypsilanti. Toledo will close out its regular season with a home game vs. Central Michigan Feb. 24, a road date against Northern Illinois Feb. 27, and its regular-season finale vs. Eastern Michigan March 2.
Students are admitted free to home games with UT ID; tickets are half-price for University employees and retirees.
For ticket information, stop by the UT Athletic Ticket Office in the Sullivan Athletic Complex in Savage Arena, go to utrockets.com or call 419.530.GOLD (4653).