Men's basketball team ready to return to court
---
Highlighting the men's basketball program's 2016-17 schedule are four contests against 2016 NCAA Tournament squads as well as a trip to Nashville for the Challenge in Music City.
"Our non-conference schedule is going to be very competitive, and we're facing a number of programs that played in the postseason last year," Head Coach Tod Kowalczyk said. "I think we're going to be tested quite a bit against what is one of the better mid-major schedules we have ever played. That will help us a great deal in our preparation for conference play."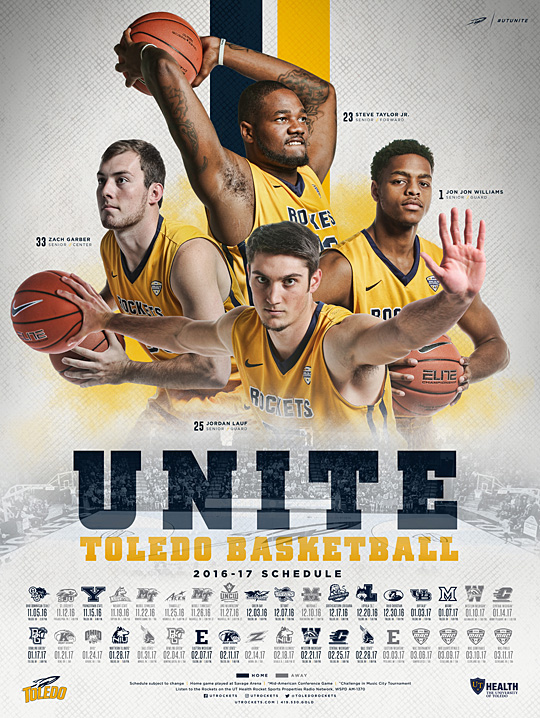 Toledo will open its season at defending Atlantic 10 tournament champion Saint Joseph's (28-8) in Philadelphia Nov. 12. The Rockets will face Youngstown State (11-21) in its home opener Tuesday, Nov. 15, before playing its remaining November schedule on the road. UT will visit Wright State (22-13) Nov. 19 and defending Conference USA tournament champion Middle Tennessee State University (25-10) Nov. 22 before battling Evansville (25-9), Middle Tennessee and the University of North Carolina-Wilmington (25-8) in the Challenge in Music City Nov. 25-27.
The Rockets will play five of their six December contests in Savage Arena beginning with home matchups vs. defending Horizon League tournament champion Green Bay (23-13) Saturday, Dec. 3, and Detroit (16-15) Wednesday, Dec. 7. Following a trip to Huntington, W.V., to meet Marshall (17-16) Dec. 10, UT closes out its non-conference slate against Southeastern Louisiana (12-21) Saturday, Dec. 17, Loyola (Ill.) (15-17) Tuesday, Dec. 20, and National Association of Intercollegiate Athletics foe Ohio Christian (24-10) Friday, Dec. 30.
The Rockets' 18 Mid-American Conference games will consist of 10 contests against West Division opponents and eight more vs. East Division foes. UT will face archrival Bowling Green and Kent State twice as part of its cross-division slate.   
Toledo will begin league play with two home games. UT's conference opener is against two-time defending MAC Tournament champion Buffalo Jan. 3 followed by a matchup vs. Miami Jan. 7.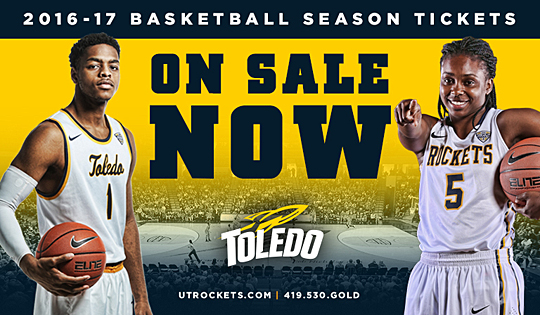 UT will then visit a pair of West Division foes Western Michigan Jan. 10 and Central Michigan Jan. 14 to begin a stretch of six of eight contests played away from Savage Arena. UT's two home dates in this stretch come against archrival Bowling Green Jan. 17 and Northern Illinois Jan. 28 with road matchups vs. Kent State Jan. 21, Ohio Jan. 24, Ball State Jan. 31, and a second Battle of I-75 encounter with the Falcons Feb. 4.
The Rockets return to Savage Arena for back-to-back tilts vs. Eastern Michigan Feb. 7 and Kent State Feb. 11 before visiting Akron Feb. 14 and Northern Illinois Feb. 18. Toledo will close out its league slate with three straight home games vs. Western Michigan Feb. 21, Central Michigan Feb. 25 and Ball State Feb. 28, and a road contest at Eastern Michigan March 3.
The Rockets are returning three starters with senior guard Jonathan Williams leading the way after ranking third in the MAC with 17.6 points per game. Williams will be joined by classmates Zach Garber (6.0 points per game, 4.8 rebounds per game), Jordan Lauf (4.6 points per game, 3.8 rebounds per game) and Steve Taylor Jr. (sat out 2015-16 after transferring from Marquette). UT also will have a pair of sophomores, Nate Navigato (8.4 points per game, 3.4 rebounds per game) and Jaelan Sanford (8.2 points per game, 2.0 rebounds per game) who were key contributors last season.
Kowalczyk is entering his seventh season at UT and has orchestrated a dramatic turnaround since his arrival in 2010. He has guided the Midnight Blue and Gold to a 98-65 (.601) win-loss mark over the last five years, including back-to-back 20-win campaigns in 2013-14 and 2014-15. Toledo also has registered 64 victories over the last three seasons, a total that ranks second among MAC members.
The Rockets also were the lone MAC school to be honored recently with the National Association of Basketball Coaches' Team Academic Excellence Award, ranking 10th in all of college basketball with their 3.16 GPA. The honor was given to programs that possessed a 3.0 grade-point average or better in the 2015-16 campaign.
Students are admitted free to home games with UT ID; tickets are half-price for University employees.
To order tickets, stop by the UT Athletic Ticket Office located in the Sullivan Athletic Complex at Savage Arena, go to http://utrockets.com or call 419.530.GOLD (4653).