Pianists to inaugurate UT's new Steinway concert grand piano
---
One dozen pianists will converge on Main Campus this weekend to inaugurate the University's newest piano — a Steinway concert grand.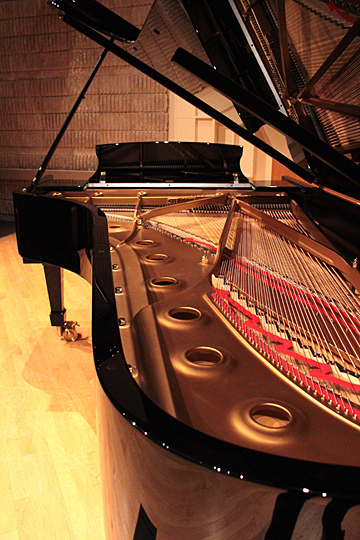 The concert will be held Sunday, Nov. 6, at 3 p.m. in the Center for Performing Arts Recital Hall.
The piano was made possible in part from a gift from the late Dorothy MacKenzie Price, a woman who also contributed to the UT Department of Music, as well as many other causes, throughout her lifetime. The concert program will include a tribute to the generous benefactor.
Pianists for the concert will be Frances Renzi, UT professor emerita of music; Dr. Michael Boyd UT professor of music; Christina Montri, UT piano accompanist; University alumni Wayne Anthony, Heidi Clausius, Nathanael Leonard, and Bonnie Rowe; UT piano students Wesley Forney, Andreea Lee, Adam Miller and Mercy Olson; and guest Charles Brown.
The program will feature an array of piano music, including several pieces for four or more hands and/or two pianos: Danse Macabre, Poème Symphonique, Op. 40 (Camille Saint-Saëns); La Valse (Ravel); Tarantella from Suite, Op. 17 (Rachmaninoff) and Hungarian Rhapsody #2 for Two Pianos, eight hands (Liszt), plus more.
All seats are $10 each. Proceeds will benefit UT's effort to become an all-Steinway school.
A free reception and cash bar will follow the event.
Parking is free in Area 12, the parking lot across the street from the Center for Performing Arts.