Women's basketball team set to hit the hardwood
---
The women's basketball team will play four squads that competed in the 2016 postseason, as well as travel to the Women's Cancun Challenge.
UT will square off against three 2016 NCAA Tournament teams (UCLA, St. Bonaventure and Notre Dame) and one 2016 Postseason WNIT squad (Dayton) prior to beginning Mid-American Conference play. Two of the four contests will take place at the friendly confines of Savage Arena, as the Rockets will entertain the Bonnies (24-8) Sunday, Dec. 11, and the Fighting Irish (33-2) Sunday, Dec. 18.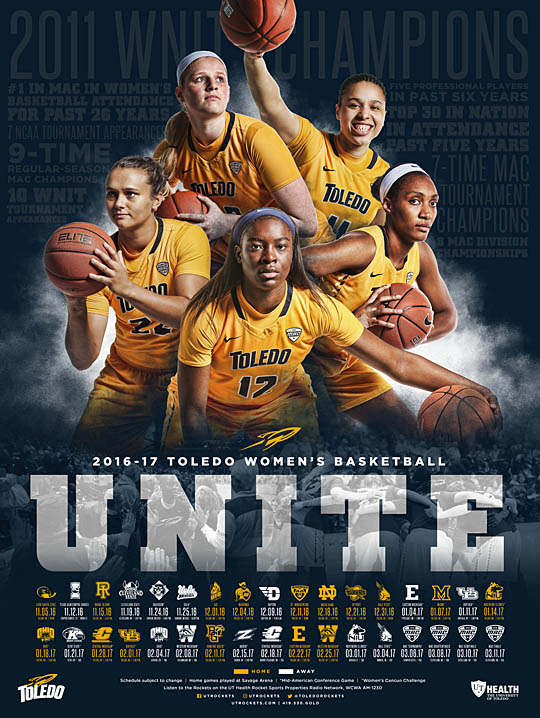 "Last season's schedule was one of the toughest I have ever challenged our team to play," ninth-year Head Coach Tricia Cullop said. "With a young team, we struggled out of the gate before we hit our stride. This year, we have set the bar high once again with Notre Dame, UCLA and Dayton on the schedule, but I believe it's a great way to improve. Great teams expose your weaknesses and give you a chance to address them before conference play. We grew up a lot last year and return several of our key players. We can't wait to get started."
The Rockets' season will officially tip off at Texas A&M-Corpus Christi (9-20) Nov. 12. UT will battle the Islanders for the first time in program history and venture to the Lone Star State for the first time since 2009.
Toledo then will entertain Rhode Island (12-18) in its home opener Tuesday, Nov. 15, before embarking on a three-game road trip with the first stop at Cleveland State (9-20) Nov. 19.
The Rockets will keep their suitcases packed and head to Mexico for the Women's Cancun Challenge for the first time. The Midnight Blue and Gold will take on Davidson (11-19) Nov. 24 and 2016 NCAA Tournament Sweet 16 participant UCLA (26-9) Nov. 25 as part of the two-game event. Toledo will compete against both squads for the first time in program history.
After playing four of their first five games away from home, the Rockets will play five of their six December contests at home, beginning with matchups against the University of Illinois at Chicago (12-18) Thursday, Dec. 1, and Madonna University (17-11) Sunday, Dec. 4.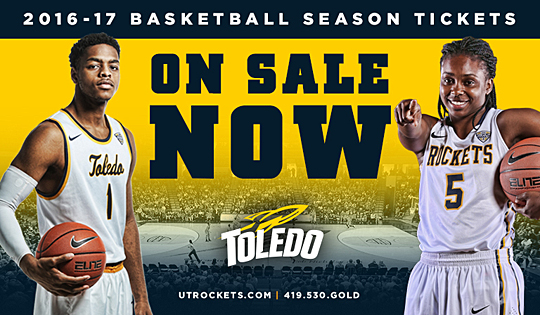 Following a trip to Dayton to meet the 2016 Postseason WNIT participant Flyers (14-15) Dec. 9, UT will close out its non-conference slate with three straight home games — St. Bonaventure and Notre Dame, and Detroit (15-15) Wednesday, Dec. 21.
UT will play two contests against each of the five other MAC West Division schools as well as reigning MAC Tournament champion Buffalo (Feb. 1) and two-time defending MAC regular-season champion Ohio (Jan. 18) from the East Division throughout the regular season.
"We were given a difficult schedule with our cross-over games, but we look forward to the challenge," said Cullop, a three-time MAC Coach of the Year.
Toledo also will face the remaining East Division teams once, with Miami (Jan. 7) and archrival Bowling Green (Feb. 11) visiting the Glass City, and the Rockets traveling to Kent State (Jan. 21) and 2016 Postseason WNIT participant Akron (Feb. 15).
The Midnight Blue and Gold will open league play against division rival Ball State Saturday, Dec. 31, at home.
UT will play six of its first nine conference games in Savage Arena, before wrapping up MAC action with six of its final nine matchups on the road.
"The conference gets better and better each year, and proof of that was the parity of last year's teams," Cullop said. "There were numerous league games decided by single digits. I expect it to be another exciting season of MAC basketball, despite the graduation of some key players."
A year ago, Toledo finished with a 17-13 overall record and a 12-6 ledger in the Mid-American Conference. UT placed third in the MAC West Division standings and earned a first-round bye in the league tournament. Toledo overcame a slow start to the year by winning 17 of its final 24 games. Along the way, they rattled off nine victories in a 10-game stretch, including two wins at the Arizona State University Classic to capture the tourney title.
Senior honorable mention All-MAC honoree Janice Monakana (11.1 points per game, 5.9 rebounds per game), junior honorable mention All-MAC selection Jay-Ann Bravo-Harriott (11.0 points per game, 3.1 assists per game) and senior Sophie Reecher (4.3 points per game, 3.6 rebounds per game) will lead the Rockets in 2016-17.
As far as numbers go, the Rockets welcome back 63.9 percent of their scoring, 71.1 percent of their rebounding, 51.5 percent of their assists, and 73.3 percent of their steals for this season.
"I'm excited about the depth and talent we have on this year's team," Cullop said. "We return a great nucleus from last year, transfer Olivia Cunningham becomes eligible to play, and we've added four talented newcomers to the roster. As we continue to improve, this could be a very exciting year."
Students are admitted free to home games with UT ID; tickets are half-price for University employees.
To order tickets, stop by the UT Athletic Ticket Office located in the Sullivan Athletic Complex at Savage Arena, go to http://utrockets.com or call 419.530.GOLD (4653).