Poet to read, discuss work noted for Confucian attitude
---
Poet Ejaz Rahim will read his poem "I, Confucius" and participate in a panel discussion and book signing Wednesday, Nov. 6, at 5 p.m. in the Center for Performing Arts Recital Hall.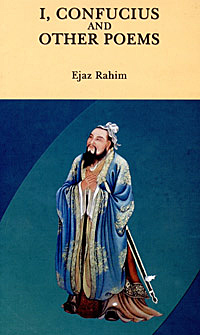 A booklet with the "I, Confucius" poem in English and translated into Chinese will be available for audience members.
Rahim started writing poems during his school years in Pakistan, and his first book of poems was published in 1993. The preface to his latest book, his 15th, enumerates his themes as "faith and doubt, compassion and cruelty, beauty and ugliness, enlightenment and ignorance, and living and dying."
He was educated at Burn Hall School Abbottabad, Forman Christian College and Government College at Lahore. He obtained a master's degree in English literature and political science and a master's degree in development studies from the Institute of Social Studies in the Netherlands.
Rahim entered the civil service of Pakistan in 1969 and retired as cabinet secretary in 2006. He served mainly in the province of Khyber Pukhtunkhwa and Pakistan's tribal areas. He also was appointed a federal minister in the Caretaker cabinet in 2007. He was selected as an Eisenhower Fellow from Pakistan in 1989.
He remained on the advisory board of the World Health Organization (Eastern Mediterranean region) and the International Centre of Health, Kobe, Japan. He has lectured at the National Defense University and the National School of Public Policy.
The Pakistan president decorated Rahim with a national award called "Sitara-e-Imtiaz" (Star of Distinction) for his contribution to Pakistani English poetry. The Pakistan Academy of Letters also has awarded him a life fellowship, and he received an honorary doctorate of letters from the Metropolitan University of Dublin in 2009.
Rahim lives in Islamabad, Pakistan's federal capital.
The "I, Confucius" poem looks at a Confucian attitude toward governance and serves as a kickoff to International Education Week, Monday through Friday, Nov. 11-15.
The week serves as a reminder that university campuses play a vital role in shaping global awareness.
Refreshments will be provided at the free, public poetry reading.