UT to honor veterans at annual event
---
The University of Toledo will honor those who serve or have served our country, as well as their families, at the annual Veterans Day celebration Tuesday, Nov. 11.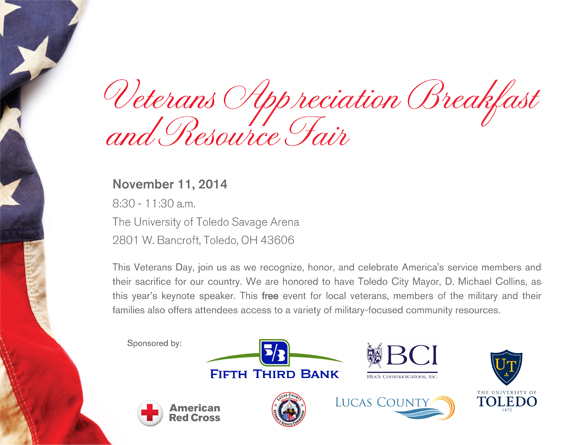 The 10th annual Veterans Appreciation Breakfast and Resource Fair will be held from 8:30 to 11 a.m. in Savage Arena, and is open to the public. The program will end with a remembrance ceremony at 11 a.m., and a bus will be available immediately following the ceremony for those who wish to visit UT's Veterans Plaza.
"You have to remember," said Vern Snyder, UT vice president for institutional advancement. "There's always going to be war, but you have to remember your colleagues, your comrades, and your friends, and the guy down the street that you didn't know, who gave up everything."
Opening remarks and invocation will be led by Snyder and Capt. Peter Drury of the U.S. Air Force, 180th Fighter Wing chaplain. Toledo News Now's Jerry Anderson will serve as this year's master of ceremonies, and the keynote speaker will be Toledo Mayor D. Michael Collins.
"At the very minimum, they've sidestepped their life for two or three years," said Snyder, who served in the U.S. Army from 1968 to 1971. "Anybody who makes that commitment is worthy of respect and worthy of honor."
Parking will be free and available in lots 3, 5 and 6. This year's event is sponsored by The University of Toledo, American Red Cross of Northwest Ohio, Fifth Third Bank, Block Communications Inc., Lucas County Commissioners, and the Lucas County Veterans Service Commission.
GI Jobs magazine featured UT in its 2014 Military Friendly Schools list, recognizing the University for working with veteran-students to translate their military service experience to useable credits for their education. In September, UT also opened a new Veteran's Lounge, accessible to students who are using Department of Veterans Affairs education benefits, as well as their dependents and spouses.
The lounge, located in Rocket Hall Room 1529, has a refrigerator/freezer, microwave, one-cup coffee maker, toaster, couches and a flat-screen TV with cable and Xbox game system, as well as two computer stations and a study table.
The lounge was made possible through donations from Whirlpool-Clyde Operations and the Ohio Army National Guard. Those interested in donating snacks, coffee and beverages for the lounge should contact Navy Reserve Lt. Haraz N. Ghanbari, UT military liaison, at haraz.ghanbari@utoledo.edu or 419.530.4137.
"The University of Toledo is a place where vets are honored, are respected, welcomed," Snyder said. "If you are a vet, this is the place to be. People understand the sacrifices you make."