Honor society collecting blankets for area homeless
---
The UT Mortar Board Honor Society will host its annual Wrap Up Toledo event to gather new or gently used blankets and donations for homeless shelters in the community.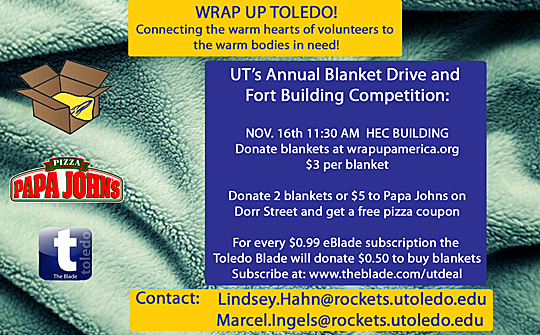 At the event Saturday, Nov. 16, in the Health Education Center, 25 student organizations will race to build the best forts out of donated blankets and PVC pipes starting at 11:30 a.m. with judging to take place around 2:45 p.m., said Lindsey Hahn, UT student and member of the Mortar Board Honor Society.
Tricia Cullop, UT women's basketball coach, will serve as the keynote speaker for the event and present a trophy to the winning student organization.
"All blankets will be donated to a range of homeless shelters within the community, including Western Avenue Ministries, Family House, St. Paul's Community Center, Toledo Gospel Rescue Mission, Bethany House, Helping Hands of St. Louis and the Toledo YWCA," Hahn said.
The blanket drive is under way; those interested in donating can bring a blanket to the event or in advance to the Student Government Office in Student Union Room 3512.
Donations also can be made through wrapupamerica.org, where a $3 gift buys one blanket through Saturday, Nov. 9.
The Blade will donate 50 cents for each 99-cent, one-year subscription for students to the digital eBlade purchased at theblade.com/utdeal.
Papa John's Pizza also is a sponsor offering free pizza vouchers for every two blankets or $5 donated to Wrap Up Toledo at its Dorr Street location.