Rockets picked to win MAC West Division, MAC Tournament
---
Toledo has been selected to win the Mid-American Conference West Division as well as the 2015 MAC Tournament as part of the 2014-15 MAC Men's Basketball Preseason Poll announced last week.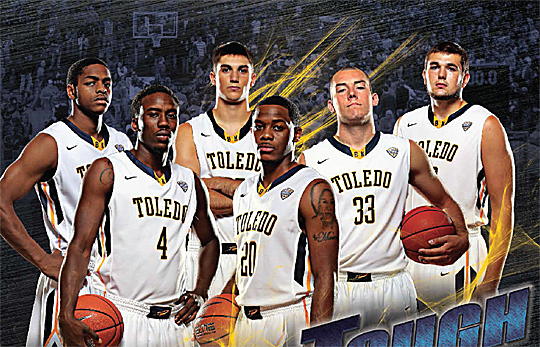 The Rockets garnered 18 votes to win the West Division and 15 votes to capture the MAC Tournament. The poll was determined by a 20-member MAC News Media Panel.
The Rockets' slate is highlighted by three contests against 2014 NCAA Tournament squads — Duke, Oregon and VCU — as well as a two-day home tournament as part of the Legends Classic.
Following its home opener vs. Northern Arizona Nov. 16, the Rockets will visit VCU Nov. 18 and Oregon Nov. 21 as part of the Legends Classic. UT will then host a two-game tournament inside Savage Arena to complete its participation in the Legends event. UT will open tourney play vs. Bucknell Nov. 24 before facing either Detroit or Maryland-Eastern Shore Nov. 25.
Toledo will then make a short trip north over Thanksgiving weekend to battle Horizon League foe Oakland Nov. 29 before beginning a season-long three-game home stand. UT will entertain Chicago State Dec. 6, Arkansas State Dec. 13 and Robert Morris Dec. 17 on its home floor before closing out the calendar year at McNeese State Dec. 20 and at Duke Dec. 29.
The Rockets will receive their final tune-up before Mid-American Conference action with a visit to Highland Heights, Ky., to face Northern Kentucky Jan. 3.
"I'm very pleased with our schedule and the challenges it's going to provide for us," Toledo Head Coach Tod Kowalczyk said. "We're going to be facing three high-level teams in Duke, Oregon and VCU in addition to several strong mid-major programs. We'll have a veteran squad back, and I believe we're ready to take on a schedule of this caliber."
Toledo set a school record with 27 victories in its 2013-14 campaign, in addition to capturing its eighth Mid-American Conference title, appearing in its eighth National Invitation Tournament in program history, and posting its first unbeaten (15-0) home record (fourth in school history) since the 1966-67 season.
The Rockets return eight letterwinners and four starters, including first-team All-MAC guard Julius Brown, third-team All-MAC guard Justin Drummond and honorable mention All-MAC forward J.D. Weatherspoon.
Toledo's 18-game MAC schedule opens with a pair of home dates vs. Central Michigan (Jan. 6) and Akron (Jan. 9). As part of its league slate, the Rockets will face each West Division foe as well as Akron and Kent State on two occasions, and the remainder of the East Division squads once each.
UT's remaining home dates are against Western Michigan (Jan. 17), Bowling Green (Jan. 24), Miami (Jan. 27), Eastern Michigan (Feb. 4), Kent State (Feb. 14), Northern Illinois (Feb. 24) and Ball State (Feb. 28).
The first round of the 2014 MAC Tournament will begin on campus sites March 9 with the remainder of the tourney being held at Quicken Loans Arena in Cleveland.