Activist/artist to visit UT for Native American Heritage Month
---
Acoma Pueblo poet Sara Marie Ortiz will give the keynote address for The University of Toledo's celebration of Native American Heritage Month.
She will speak Monday, Nov. 28, at 7:30 p.m. in the Student Union Ingman Room.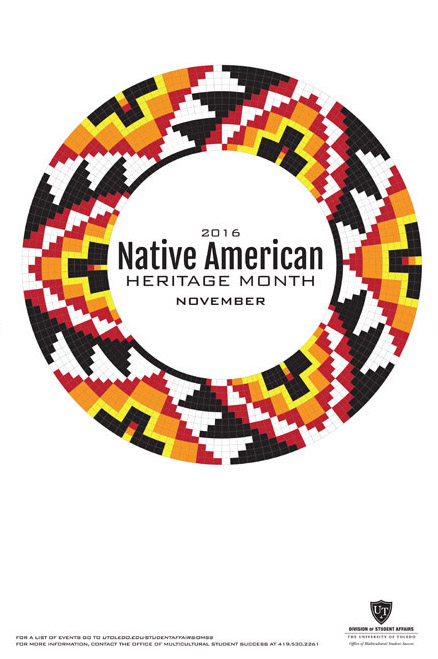 Ortiz is the author of a collection of poems, Red Milk, published in 2013. Her works have appeared in Ploughshares and New Poets of the West, as well as a 2011 anthology, Sing: Indigenous Poetry of the Americas.
A filmmaker, she has worked on "Search for the World's Best Indian Taco" (2010), "Indios Primeros" 2010 and "Made in New Mexico" (2012). She is making a documentary on the life and legacy of her father, poet Simon J. Ortiz.
An indigenous peoples activist and performing artist, Ortiz received a bachelor of arts degree from the Institute of American Indian Arts and a master of fine arts degree from Antioch University Los Angeles. She is an education administrator in Burien, Wash.
Her free, public talk is sponsored by the Office of Excellence and Multicultural Student Success, the Division of Student Affairs, and the Department of English Languages and Literature.
Another event in honor of the month will be a Native American food sampling Monday, Nov. 14, from noon to 2 p.m. in the Student Union Auditorium.
"Celebrating Native American history is important on a national level, as well as having a great deal of significance regionally and locally," Daniel McGuire, associate director of the Toledo Excel Program, said. "In an effort to address both of these aspects, the food tasting event will allow students an opportunity to sample foods that indigenous people from our area would have eaten, and our keynote speaker, Sara Marie Ortiz, will be sharing her experiences growing up in the Northwest United States."
For more information on the events, contact McGuire at daniel.mcguire@utoledo.edu.