University recognized for service to veterans
---
The University of Toledo continues to be recognized as a military-friendly university for the assistance and support provided to service members, veterans and their families.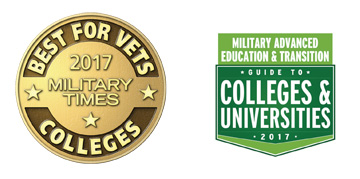 Military Times announced last week its Best for Vets: Colleges 2017 rankings that evaluate the factors that make colleges and universities a good fit for members of the military and veterans. More than 500 colleges took part in the survey, and the top 175 were featured in the rankings.
"We limit our list to encourage competition, and we genuinely hope this helps raise the bar for veterans on campus," said Amanda Miller, editor of Best for Vets.
Military Advanced Education & Transition also named UT a top school in its 2017 Guide to Colleges & Universities research study.
"The recognition as a top military-friendly university reflects the University's commitment to honor the sacrifices of our service members and their families and help them achieve their education goals," said Navy Reserve Lt. Haraz N. Ghanbari, UT director of military and veteran affairs.
The UT Military Service Center provides accessible educational and degree completion opportunities and a range of customized support services to service members and veterans, including educational benefit processing, mentoring, advocacy and networking. The center also partners closely with veteran service organizations to assist with the transition from military service to the classroom. 
For more information, the Military Service Center can be reached at 419.530.VETS (8387) or online at utoledo.edu/military.