Students to premiere futuristic thriller film Nov. 14
---
Imagine a future where you're forced to elude bounty hunters and drones on a daily basis. That's the basis of the UT student-made short film, "Pursuit," set to premiere Saturday, Nov. 14, at 8 p.m. in Center for Performing Arts Room 1039.
Admission to the premiere is free.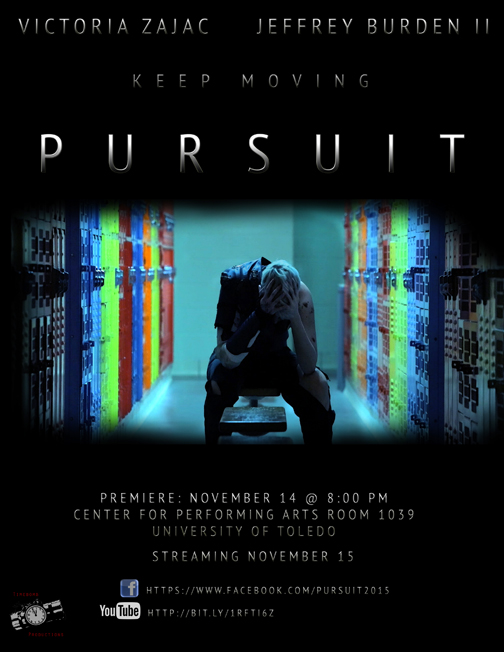 "Pursuit" was shot exclusively at The University of Toledo.
"The cool part about this film is that it was shot on The University of Toledo campus, but it doesn't look like it at all," said film student James Aponte, director.
"Pursuit" is a sci-fi thriller set in the future in a crumbling warehouse district. It follows a character named Valerie, played by Victoria Zajac, who spends the course of the film running and hiding from a bounty hunter named Briggs, played by Jeffrey Burden II.
Burden described his character as someone who is selfish and angry and ready to do whatever it takes to get the job done.
He said playing someone else in a film is one of the greatest feelings in the world. "It breaks down a barrier I have around me," he said.
Burden also has acted in "Backfired," a web series produced by Aponte.
Zajac describes Valerie as a really tough but tired girl who is just trying to survive.
Burden and Zajac are both theater students at The University of Toledo.
Aponte was inspired to make this film after he heard about someone at his mom's workplace playing with a drone inside a warehouse.
He said the film is different because it has quiet and subtle human moments.
"The climax of the film is more of an emotional climax," Aponte said. "It's based more on human emotion and interaction, whereas other films of this genre are kind of more bombastic and actiony."
Aponte said he wants people to see the film because it is unlike anything that has come out of UT, and it showcases talent at the University.
Zajac added, "It's an awesome opportunity to see what fellow students are doing in the film department. Everyone involved in the production of the film put a lot of work into it, and this is their chance to show everyone what they have been working for."
Zajac also has acted in UT's productions of "The Adding Machine" and "Twelfth Night," as well as the Glacity Theatre Collective's musical "House of Vinyl" and Halloween show in October.
Andrew Collings, the assistant director of "Pursuit," was asked by Aponte if he'd be interested in being a part of the film.
"I was excited about this from the beginning," Collings said. "Having read the script, I really thought this looked really strong."
Not only did Aponte and Collings work with students, but they collaborated with filmmakers and professionals in the area, and they used the highest quality equipment they could find.
"Even though this is technically a student film, we've tried really hard to treat it like a professional film," Collings said. "We wanted to do everything we possibly could to really blow this out of the water."