Exhibit featuring best of Canaday Center to open Nov. 14
---
A copy of "Common Sense" printed in 1776 signed by Benjamin Franklin. A white shirt worn by President John F. Kennedy in 1958. An autographed photo of Katharine Hepburn. Toledo native Jamie Farr's "M*A*S*H*" scripts from 1978 to 1980.
These are a few of the documents and artifacts that will be on display in the exhibit titled "Preserving Yesterday for Tomorrow: The Best of the Ward M. Canaday Center for Special Collections."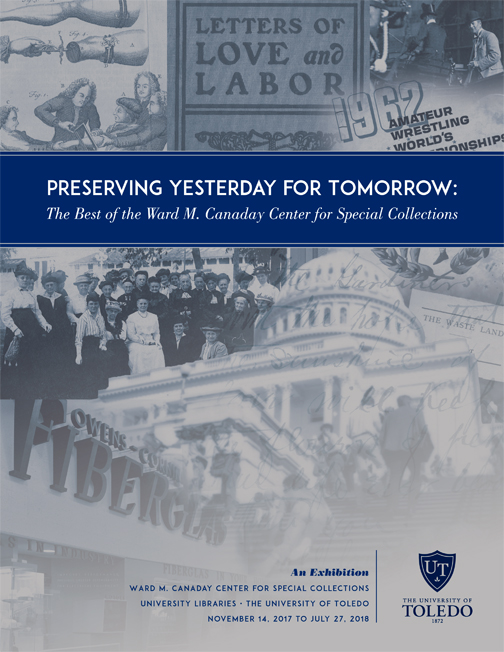 Barbara Floyd, who retired last month as director of the Canaday Center, will speak at an opening reception Tuesday, Nov. 14, at 3 p.m.
"With 31 years in the Canaday Center — initially as university archivist and for the past 20 years as university archivist and director of special collections — I had a role in preserving some great collections," Floyd said. "This exhibit is bittersweet for me. It has been a privilege to have helped shape the development of the center and its collections."
It was a $226,000 gift from Doreen Canaday Spitzer in 1977 that made the center possible. The donation was to be used to create a research center for the study of rare books and special collections as a tribute to her father, Ward Murphy Canaday, chairman of the board and president of Willys-Overland Motor Co., and longtime president of the Friends of the UT Libraries.
Since its dedication Sept. 26, 1979, the center has grown from a small rare books repository into a modern special collections department, preserving thousands of feet of material.
"The center still has a three-pronged mission of collecting, preserving and making available rare and unique research materials," Floyd said. "The center continues to preserve three distinct types of materials: rare books, manuscripts and The University of Toledo archives."
In addition, the center has refined its collecting focus while expanding its emphasis to include new research areas.
"With rare books, the center has collected less literature and more books chronicling the history of northwest Ohio and women's social history," Floyd said. "The center also added an amazing collection of rare medical books following the merger of UT's library with Mulford Library of the former Medical College of Ohio."
It is in manuscript collecting that the Canaday Center has grown in terms of size and reputation, according to Floyd.
"The center has developed three extraordinary collecting areas: the history of business and industry in Toledo, disability history, and the history of Toledo's city government," she said.
These areas will be showcased in the exhibit, along with gender and sexuality, sports and recreation in Toledo, and more.
"This exhibit highlights specific, individual items from our collections that are judged to be among the best of what we preserve," Floyd said.
On public display for the first time will be the original charter of the city of Toledo, which the center recently acquired and preserves on behalf of the city. Also on display will be items documenting Toledo's glass industry. The collections of historical records from Owens-Illinois, Owens Corning, and the former Libbey-Owens-Ford companies that the center houses have been used extensively by researchers from around the world.
"Preserving Yesterday for Tomorrow: The Best of the Ward M. Canaday Center for Special Collections" will be on display Monday through Friday from 8 a.m. to 5 p.m. through July 27.
For more information on the free, public exhibit and opening, contact Sara Mouch, curator and assistant university archivist, at sara.mouch@utoledo.edu or 419.530.5578.