UT alumnus/doctoral student to hold book-signing event Nov. 17
---
Jeremy Holloway, who is pursuing a doctorate in curriculum and instruction in the Judith Herb College of Education, has published a book titled "God Wants You to Smile Today: 25 Epiphanies of God's Goodness — Secrets to Living With Radical Peace, Joy and Hope."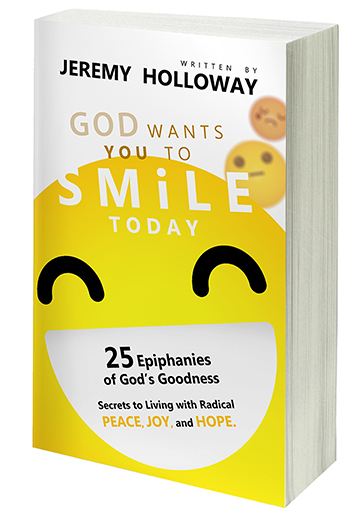 He will sign his debut book Saturday, Nov. 17, from 3 to 5 p.m. at Intersection Church, 1640 S. Coy Road in Oregon, Ohio. Entertainment, giveaways and refreshments will be provided at the event, where the book will be for sale for $8.99.
Proceeds will go to Celebrate Recovery, which is a program for anyone struggling with hurt, pain or addiction of any kind.
Holloway wanted his first book to inspire others.
"'God Wants You To Smile Today' is an inspirational book about using your talents and lives to put a smile on the face of our Creator, and on the faces of others around you," he said.
"This book is a constant reminder of how good life can be, and that the gift of a smile is a precious and powerful thing," Holloway said. "This book reminds me to smile when I meet someone or smile when I wake up in the morning. 'God Wants You to Smile Today' reminds me I have been given talents and gifts that can make other people smile and I intend to use them."
Holloway is using his talents to help many. He is a mentor for undergraduate students through the University's Brothers on the Rise, which helps UT males, especially African-American and Latino, make the transition from high school and college. He also is involved with UT's Multicultural Emerging Scholars Program, represents the Judith Herb College of Education in the Graduate Student Association, and is a leader for the Kappa Delta Pi Honor Society in Education. In addition, he is a mentor with Big Brothers Big Sisters.
His work and dedication have been noticed. In 2017, he received the 20 Under 40 Leadership Award, which is presented annually by Leadership Toledo to 20 individuals who are 39 or younger in the Toledo community who have demonstrated exceptional leadership qualities.
The native of Toledo received a bachelor of arts degree in Spanish and a bachelor of education degree from UT in 2005. He taught Spanish at area schools and graduated from the University in 2014 with a master's degree in English as a second language.
"The opportunities I've received at UT have surely made me smile, and I consider them to be a gift that I intend to share to make other people smile as well," Holloway said.
In the future, he intends to write academic books to engage the mind, but he also plans to write inspirational books to engage the soul, heart and spirit.
"God Wants You to Smile Today" will be for sale at the Nov. 17 event and also is available at Amazon.com in paperback and Kindle form.