Faculty bring experiences working with playwright to 'Metamorphoses'
---
The University of Toledo Department of Theatre and Film production of Mary Zimmerman's "Metamorphoses" will open Friday, Nov. 16, in the UT Center for Performing Arts Center Theatre.
Performances will continue Saturday and Sunday, Nov. 17 and 18, and Wednesday through Sunday, Nov. 26 through Dec. 2. Curtain time is 7:30 p.m. except on Sundays, when the show will start at 2 p.m.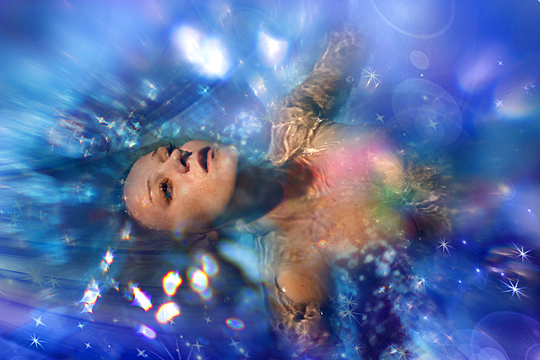 A discussion with the director, cast and designers of the show will take place after the opening night performance. Refreshments will be served.
Written and originally directed by Zimmerman, "Metamorphoses" took Broadway by storm in 2002 and won a Tony Award for best direction, as well as a nomination for best play.
Two theatre faculty members, Daniel Thobias and T.J. Gerckens, have worked with Zimmerman on previous productions of "Metamorphoses."
Gerckens, a lecturer specializing in lighting design and cinematography, who is the production manager for the UT performance, has worked extensively with the writer and original director of the play. In fact, he has been working with Zimmerman on the revival of the production now playing in Chicago.
Thobias, assistant professor of theatre who focuses on costume design, worked as a properties artisan on "Metamorphoses" in the Berkeley Repertoire Theatre production, one of the original stagings of the show. He is the designer of the set for the UT production and is overseeing the costume design process. Student Halah Mohamed is designing the costumes.
Irene Alby, director of the UT production and a theatre lecturer, said she is thrilled to work with gifted faculty who bring impressive work experiences: "To direct this production working with people who worked with Mary Zimmerman is incredible. They have such great insight into the playwright. It has informed my own ideas about the play a great deal."
Set around a pool that is both primordial and metaphorical, "Metamorphoses" is a series of Greco-Roman myths by Ovid, knitted together expertly and poetically by Zimmerman, and crafted into a visually dynamic play.
According to a review from The Wall Street Journal, "Mary Zimmerman's beautiful and deeply humane 'Metamorphoses'… reanimates [Ovid's myths] with a combination of agile storytelling and enthralling stagecraft. Funny one moment, achingly sorrowful the next, 'Metamorphoses' somehow manages both to lift you out of the moment you're living in and speak to it with piercing directness."
Alby said her own direction for the play will utilize "the extraordinary process of pregnancy and the womb and birth as a symbolic microcosm of the universe and all within it as it journeys toward wisdom. Each of the myths in the play explores deeply some important aspect of that journey, a journey of love and transcendence that each of us is already walking.
"I think the play resonates so well with people, and has for many years, because of its ability to profoundly and spiritually transform its audience," she said. "When people see it, they never forget the beauty and magic of it, and they're never quite the same."
Students in the cast are Lynnette Bates, Davion Brown, Jeffrey Burden II, Pasha Carter, Evan Dailey, Timothy Fox, Alysa Garcia, Jessica Homer, Junfeng Hou, Kori Johnson, Shannon McGee, Andres Medina, Lance Miller, Brittney Penrose, Lydia Sims, Ashley Stephens and Danielle N. White.
Tickets are $12 for general admission; $10 for faculty, staff, alumni and seniors; and $7 for students. They can be purchased online at utoledo.edu/boxoffice, by calling 419.530.2375, or by visiting the Center for Performing Arts Box Office.
Student members of fraternities or sororities who wear their letters or show their membership card at the box office can get a "Go Greek" discount of $2 off their ticket.
Season flex passes are still available. A season flex pass is 15 percent off the price of four individual tickets purchased separately. The pass provides four tickets that can be used in any combination throughout the season.