Luckless or loveless, faculty author's characters never despair
---
Do you remember the notorious 2007 Mother's Day brawl at Toledo's Golden Corral restaurant? Jane Bradley does; she made it the basis for the title story in her new collection of short fiction, Are We Lucky Yet?
"I like to write about people who have a lot stacked against them, and how they're going to move through them," said the UT associate professor and director of creative writing, the gentle drawl of her Tennessee roots still audible after "a million years" in Toledo.
She's no stranger to poor odds. The self-described "Appalachian girl" based her first novel, Living Doll, in large part on her own childhood. The book is still used in graduate and intern programs, she said, to train professionals who work with dysfunctional adolescents and children. Her screenplay, "Blood Sisters," is set in 1916 Erwin, Tenn., still known as the town that hanged a circus elephant who'd killed its handler. Though newspapers of the day lavished columns on the pachyderm's death, Bradley noted, the lynching of two local "colored men" received hardly a mention.
Bradley's stories, though adult in outlook, are far from bleak; her favored theme, after all, is redemption. "My daughter says that I write about desperate people in desolate places," she said. "That sounds darker than it is — often they're looking for love or luck. Sometimes they find it in very wayward ways. I write about the redemptive power of love and imagination."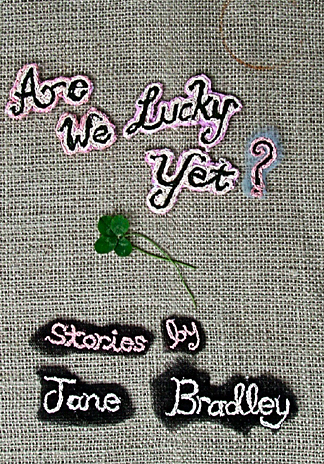 Are We Lucky Yet? is her Toledo book, she said. "There's a lot of pavement in this book, a lot of stories set in parking lots, airports, shopping malls." For Bradley, as for her idol Flannery O'Connor, setting is less critical than character. As she noted, "No one is simple, no one is less than multidimensional."
As Bradley's characters search for paths leading out of poverty — whether spiritual, emotional, financial — finding their way requires both luck and trust, as the child's four-leaf clover on the book's cover seems to suggest.
"That was inspired by my sister, who kind of took in two neighbor kids who were abused and very poor," Bradley said. Searching for a four-leaf clover, she said, was something her sister used when they needed calming. "The little boy found one and came back shouting, 'Am I lucky yet?' My sister looked down at the ragged boy who would have to go back home to his daddy who'd beat him. She just said, 'Yeah.'"
Bradley will be sharing more of Are We Lucky Yet? (which was a runner-up in the Grace Paley Prize competition sponsored by the Association of Writers & Writing Programs) at its launch party. The event that includes a reading, a raffle and a book-signing will take place Wednesday, Nov. 18, at 7 p.m. at 20 North Gallery, 18 North St. Clair St., in downtown Toledo.
To cement the theme, Bradley promises "many Lucky Charms for all."