UTMC Campaign Focuses on Serving Community
---
A new campaign to promote The University of Toledo Medical Center focuses on the hospital's commitment to providing excellent care to the community.
With the tagline "Open for You," the community-focused teaching hospital that has served northwest Ohio since 1964 is promoting its mission of service and excellence in healthcare through a new 30-second television spot, billboards, and print and digital advertising in local media.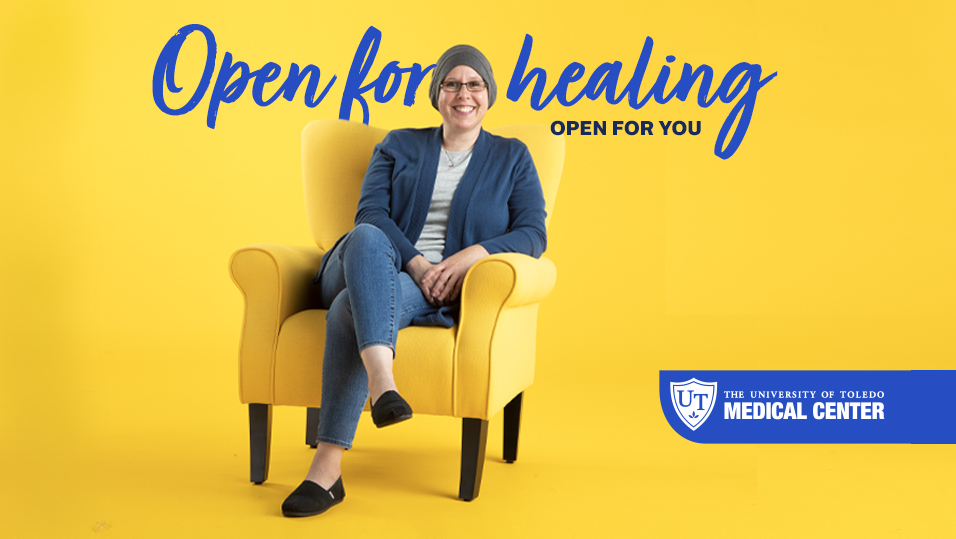 "We want to be clear that we are open and ready to serve members of our community," UTMC CEO Rick Swaine said. "As Toledo's only independent hospital, we need the support of our neighbors to trust us with their healthcare needs and those of their family.
If you need a specialist in cardiology, orthopaedics or urology, we're open for you. If you or your family need medical care, our outstanding primary care physicians at the Comprehensive Care Clinic are open to care for you. And while I hope you don't need it, we're open for you in the event of an emergency."
The marketing campaign refreshes the UTMC brand and sets the hospital apart in the competitive local healthcare landscape by embracing the bold yellow of the University's midnight blue and gold colors, strategically aligning it with The University of Toledo brand. Real UTMC patients, learners and caregivers at the medical center are featured throughout the campaign, including on the UTMC website and social media channels.
"The new marketing campaign showcases the cheerful and helpful care patients receive at our hospital," said Dr. Adrienne King, associate vice president of marketing and communications. "The campaign also highlights the stories of our learners from the university's Colleges of Health and Human Services, Medicine, Nursing and Pharmacy."
For nearly 60 years, UTMC has been a leader in providing access to high-quality healthcare for the Toledo region. Facing the global coronavirus pandemic, in collaboration with UToledo's College of Medicine and Life Sciences, UTMC developed the first COVID-19 testing in northwest Ohio and continues to be the region's only COVID-19 test processing site.
UTMC is proud to serve our Toledo community. We are open for healing. We are open for you.