Climate change focus of Science Café discussion Nov. 19
---
Learn about and discuss the effects of climate change and the controversy of science and politics surrounding the issue when Sigma Xi, the Scientific Research Society at The University of Toledo, hosts a Science Café discussion Tuesday, Nov. 19.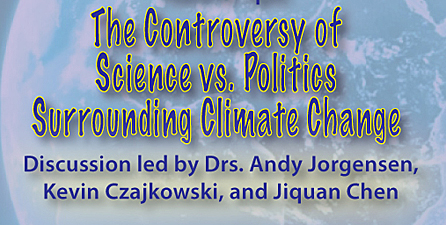 Science Café is a new periodic Sigma Xi event for all interested in science.
The upcoming event, "The Controversy of Science vs. Politics Surrounding Climate Change," will take place from 5:30 to 6:30 p.m. in Libbey Hall on Main Campus.
The informal event with refreshments will give undergraduate and graduate students and community members a chance to interact with faculty in a setting other than the classroom.
"We invite all to learn and discuss the latest scientific information on climate change, how it affects all of our lives and ecosystems, and why some of the public view it as disputable," said Dr. Carol Stepien, UT professor of ecology and director of the Lake Erie Center, who serves as president of Sigma Xi.
The discussion will be led by Dr. Andy Jorgensen, UT associate professor of chemistry, Dr. Kevin Czajkowski, UT professor of geography, and Dr. Jiquan Chen, UT professor of environmental sciences.
All of the speakers have researched the effects of climate change and will engage audience members about their thoughts on the sometimes controversial topic.
For more information about the free, public Science Café, contact Stepien at carol.stepien@utoledo.edu.