Toledo to take on BG in primetime Nov. 19; several parking lots to close for big game
---
How many sub-plots can there be in one game? The answer may be found in Toledo's nationally televised contest vs. archrival Bowling Green Wednesday, Nov. 19, in the Glass Bowl. Kickoff is at 8 p.m.; the contest will be carried live by ESPN2.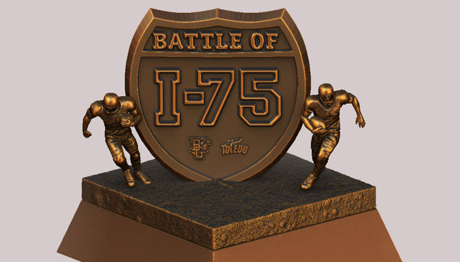 First and foremost, it's a critical conference game for the Rockets. Toledo (6-4, 5-1 Mid-American Conference) is coming off a damaging 27-24 loss at Northern Illinois Nov. 11 but can still make it to the MAC Championship Game with wins over BG and Eastern Michigan Nov. 28 — and some help from Western Michigan. The defending MAC Champion Falcons (7-3, 5-1 MAC) already have printed their ticket to Ford Field, but can clinch an outright East Division title with a win over UT.
Second, it's Senior Night for Toledo, with 17 seniors playing their final game in the Glass Bowl. This group has never lost to BGSU, and they would like nothing better than to keep it that way.
Third, comes the drama at quarterback for UT. Namely, who will line up behind center for the Rockets? In the wake of injuries to Toledo's top three QBs, senior wide receiver Dwight Macon had to come in off the bench vs. the Huskies last week. He nearly led the Rockets to an improbable comeback. If he's called upon once more, Macon could cement his place in Rocket lore if he can lead his team to victory.
Finally, and not to be forgotten, this is the Battle of I-75. About 20 miles of this interstate highway separates the two schools, probably not enough to suit both sides. Toledo has won four straight in the series, including a thrilling 28-25 comeback victory at Doyt Perry Stadium last year, but the Falcons still lead overall, 39-35-4. Considering the possible storylines, game No. 79 in this series could prove to be a very memorable one.
Tickets for the game are available at utrockets.com and by calling 419.530.GOLD (4653).
For the game, parking lots 5, 6, 9 and 10 will close at 7 a.m., and lots 3, 4 and 18 will close at noon.
Additional shuttle services will be in place during the day to accommodate students traveling from lots 19 and 20 to the bus loop area. And, weather permitting, the field across from University Hall will be available for students to park.