Rocket Marching Band to Perform Nov. 22 in Valentine Theatre
---
The University of Toledo Rocket Marching Band will take its show from the field to the Valentine Theatre. The Sounds of the Stadium concert will be held Friday, Nov. 22, at 8 p.m. at the historic venue located at 410 Adams St. in Toledo.
The Rocket Marching Band will perform music from its 2019 fall season.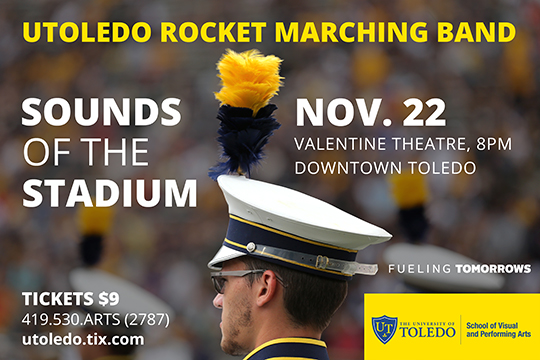 Highlights of the program will include the music of Motown, Top 40 hits, car-culture tunes, and traditional UToledo favorites.
Tickets are $9 each. Discount tickets are available for groups of 10 or more. Tickets are available through the UToledo Center for Performing Arts Box Office at 419.530.ARTS (2787) and on the School of Visual and Performing Arts' website.
Tickets also are available through the Valentine Theatre Box Office at 419.242.ARTS (2787) and on the Valentine Theatre website.
Click to access the login or register cheese