Rockets to auction off 'power in pink' jerseys for charity
---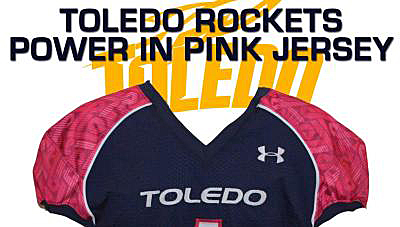 The University of Toledo will hold an online auction of 100 special "Power in Pink" game jerseys that the players will wear in tonight's big football game vs. No. 16 Northern Illinois.
The Under Armour jerseys will feature pink highlights to show support for breast cancer research and awareness. The auction will take place online at UTRockets.com beginning today at noon and run until Sunday, Dec. 1.
The minimum bid will be $125 for each jersey.
All jerseys will be sent out through UPS after the auction the first week of December.
Proceeds from the jersey auction will go to The University of Toledo Eleanor N.
Dana Cancer Center designated for breast cancer research and awareness.
Click to access the login or register cheese