Rocky's Locker Pop-Up Store to open Nov. 27
---
Looking for some great deals on gifts for UT fans this holiday season? Maybe you want to spruce up your Rocket wardrobe?
Stop by Rocky's Locker Pop-Up Store this week!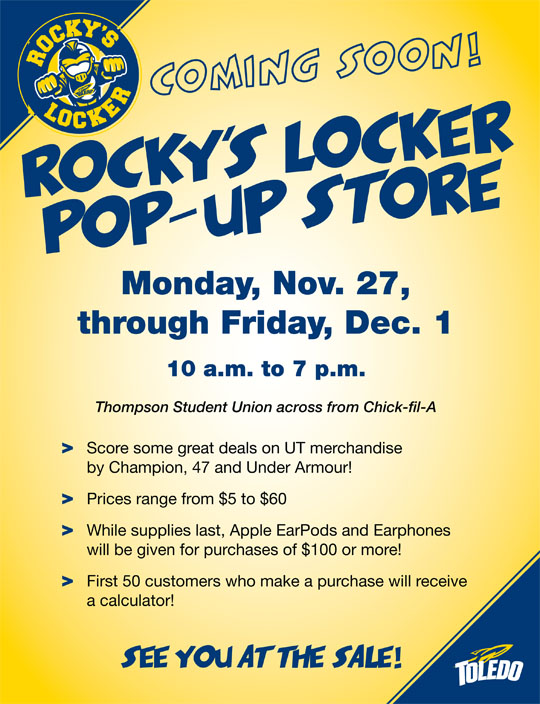 The store will be open Monday, Nov. 27, through Friday, Dec. 1, from 10 a.m. to 7 p.m. in the Thompson Student Union across from Chick-fil-A.
"We thought it would be fun to have our first end-of-the-year sale with a pop-up store," Bonnie Murphy, associate vice president for auxiliaries, said. "And we wanted to offer extended hours to allow employees to shop after work."
Students, faculty and staff can score some deals on UT merchandise by Champion, 47 and Under Armour. Check out coats, jackets and vests; long-sleeve fleece and sweatshirts; and hoodies, pants, T-shirts and caps.
Prices range from $10 to $25, with coats from $40 to $60. And there'll be a rack of sweatshirts, T-shirts and hoodies for $5.
While supplies last, Apple EarPods and Earphones will be given for purchases of $100 or more.
In addition, the first 50 customers who make a purchase will receive a Texas Instruments calculator.
"We hope campus community members come out and take advantage of this sale, which will offer substantial value. Prices marked are final prices," Murphy said. "If purchasing for the holidays, please keep in mind all sales will be final."
Look for another Rocky's Locker Pop-Up Store near the end of spring semester.