Remember UT on Giving Tuesday Nov. 29
---
In 2001, Michele Wilson left her home in the Cleveland area to take classes at The University of Toledo.
"I was very fortunate to receive scholarship aid," she said. "What I'm actually trying to do now is pay back the scholarships that I received so someone else can benefit from them as well."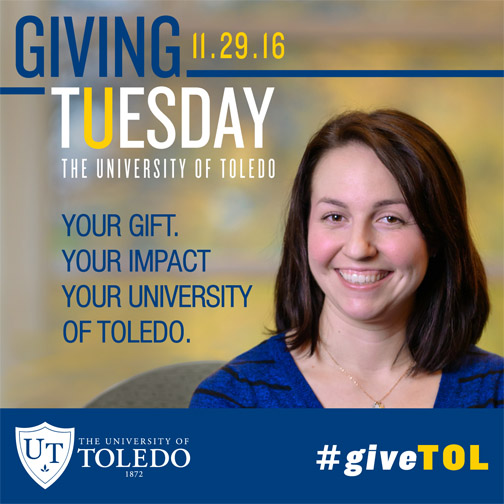 The 2005 alumna plans to remember the University on Giving Tuesday, Nov. 29.
"My support will help someone else attend UT and receive a degree," Wilson said.
Since 2012, Giving Tuesday has become the premier day for celebrating philanthropy and giving back across the country.
The University of Toledo is asking alumni and supporters to consider a gift to UT on Tuesday, Nov. 29, to participate in the national campaign by visiting utoledo.edu/giveTOL.
As part of its Giving Tuesday campaign, UT is spotlighting a few of the people and programs impacted by the generosity of Rocket donors, many of whom are paying it forward for current and future students.
That includes graduates like Wilson, who, after a successful career in the areas of commercial real estate and higher education at UT, is now a stay-at-home mom to her young children.
"UT has touched every part of my life. I met my husband and some of my best friends when I was student," she said.
"I give back to help others find their own path, their own happiness and success at The University of Toledo," she added.
Join UT alumni and friends in remembering the University on Giving Tuesday.
Follow UT Giving Tuesday on Twitter with the hashtag #GiveTOL.