New UT Press book showcases voices of Beat poets
---
For one year, David Ossman interviewed writers and literati as poetry reached its precipice.
With reel-to-reel tapes recording, Ossman was on the air at WBAI in New York City, where he talked to poets and editors in 1960 and 1961. His show was called "The Sullen Art," a reference to Dylan Thomas' poem about the solitary nature of writing. Among those stopping by to share thoughts were Allen Ginsberg, Denise Levertov, Robert Creeley, Amiri Baraka, Paul Blackburn, Rochelle Owens and Jackson Mac Low. Corinth Books published some of Ossman's transcripts in 1963.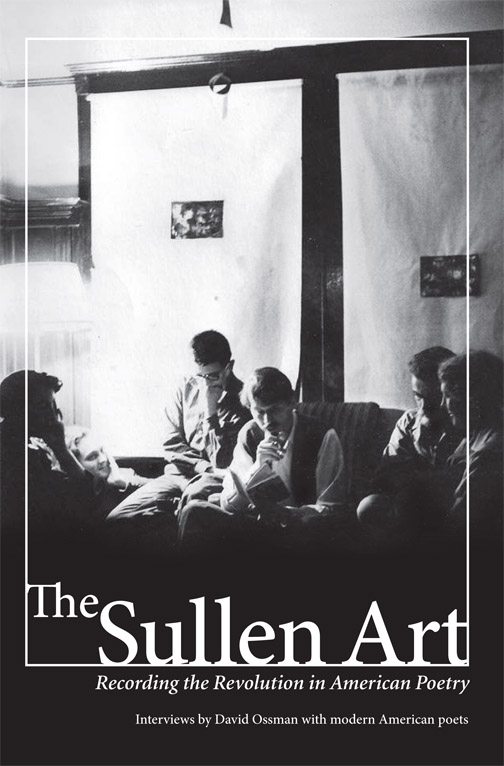 An expanded edition of "The Sullen Art: Recording the Revolution in American Poetry" recently was published by The University of Toledo Press. The 268-page work includes 28 interviews and a CD recording of Ossman's 1961 radio documentary.
"At the moment 'The Sullen Art' was on the air, I felt was doing my listeners a service by playing out to them something they couldn't have known unless they were grubbing around in the Beat bookstores in Greenwich Village," Ossman said during a call from his home on Whidbey Island, Wash.
"There were poetry readers on the air, but no one was talking about what was really going on, and by this time, it had been going on for five years where everything — since "Howl" and "On the Road" and "Naked Lunch" — had changed in the world."
Being a poet, novelist and playwright helped Ossman easily converse with other artists who wielded words.
"I really think [the book] is a slice of history and shows when poetry began to go in several directions. The '60s lay spread out for the poets and the writers who were writing in 1960, and if you look at that decade, how tumultuous and political and violent it was, well, all of those things were about to happen," Ossman said. "At the moment of the interviews, and I made this comment to many of the writers: It seems like nothing is happening; it seems like an interregnum; it seems like a quiet spot just between the election and the inauguration, just when Kennedy came into office. 

"So it's a snapshot, to use another cliché word, of that year — what people were talking about, what moved them, what kind of writing they wanted to do, who they liked, who they didn't like. And so much of it centers around Ginsberg as the guy who was famous.
"Other than the novels [Jack] Kerouac was churning out and long, long poems that Allen was turning out, general readers didn't know about anybody else. It was censorship; it was the press: Should we talk about that? It was a weird moment in time. And I think everything in the '60s precipitated from that, including really the end of poetry as an influence, which Allen carried all the way through the '60s, through the Vietnam War, and became almost a folk hero." 
Ginsberg's interview offers a peek into his innovative process.
"It's a moment in Allen's creative life that he was willing to share very informally; I just pointed at the tape recorder and said, 'Go,' and it started. That to me is the centerpiece — where he was at that moment as a writer, where he was famous, but it was before he became a real pop culture figure, and how everyone else in the community of writers felt about it. And the impassioned writers of the time really cared about method and influences, and everybody is corresponding with everybody else and talking about Ezra Pound, I mean, it's really serious stuff. That disappeared by the mid-60s. I was happy to go into comedy," Ossman said and laughed.
Ossman headed west and helped create the comedy troupe, The Firesign Theatre, which received three Grammy Award nominations. The witty writer also penned a novel, "The Ronald Reagan Murder Case," a memoir titled "Dr. Firesign's Follies," and is finishing a second memoir called "Fighting Clowns of Hollywood." His latest collection of poems is "Marshmallows & Despair," and his forthcoming second novel is "The Flying Saucer Murder Case." Other credits include directing "The War of the Worlds 50th Anniversary Production" and providing the voice of Cornelius in Pixar's "A Bug's Life."
Meanwhile, in 1977, thanks to encouragement from Noel Stock, UT professor emeritus of English, the University obtained the recordings of poets who appeared on Ossman's radio show. The tapes and related materials are housed in the Ward M. Canaday Center for Special Collections in Carlson Library.
Two years ago, Ossman and his wife, Judith Walcutt, contacted the Canaday Center about the possibility of an expanded edition of "The Sullen Art."
"The inspiration was: Can we get this published and on CD? And the answer was yes," Ossman said. "I love the book, and I love the way it turned out."
Thanks to the Alice Ohlinger Weaver Endowment Fund, the reel-to-reel tapes were digitized so a CD could be included with the book.
"I'm proud that this important work has been given new attention through this updated edition," Barbara Floyd, director of the Canaday Center and UT Press, and interim director of University Libraries, said. "The interviews in this book reveal these poets at a time when their styles were still evolving, and they were only just becoming well-known and critically acclaimed."
"The Sullen Art" is $29.95 and available at utoledopress.com.
In honor of Ossman's 80th birthday, members of the Toledo Poets Museum will read excerpts from "The Sullen Art" Tuesday, Dec. 6, at 6 p.m. in Carlson Library Room 1005. The free event is co-sponsored by the UT Press and the UT Department of English Language and Literature.