Lecture series focuses on 'Everyday Humanities'
---
"Everyday Humanities," a lecture series co-sponsored by the UT Humanities Institute with the Way Public Library in Perrysburg, will bring 10 humanities scholars — including seven from UT — to give presentations on their research.
In co-creating the lecture series with Way Library, Dr. Christina Fitzgerald, professor of English and former director of the Humanities Institute, said she hopes it engages the community: "We want to help the public in northwest Ohio understand how the humanities have an impact on their everyday lives."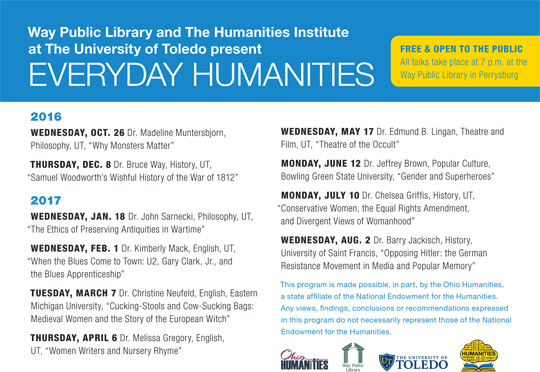 As Fitzgerald and Natalie Dielman, UT alumna who works at the Way Library, wrote in their grant to fund the program, the purpose of the series is to "bring humanities professionals from the region to Perrysburg to speak about engaging topics of general audience interest that demonstrate, explicitly and implicitly, how humanities research and interpretative methods enrich our understanding of the world around us in our everyday lives."
The program is funded by a grant from the Ohio Humanities. The motto of the state-based partner of the National Endowment for the Humanities is "Sharing the Human Story," and "Everyday Humanities" aims to do that through the research of UT and area scholars.
Philosophy is important to the humanities and to this series, Fitzgerald said. "Philosophy asks the big questions about that human story: about our being, about meaning, about knowing, about how to live the good life, and so on. The very fact that we ask these questions and ponder our existence is part of what makes us human, so philosophy is an essential part of the humanities. For that reason, we have two philosophy talks in our series."
Dr. Madeline Muntersbjorn, UT associate professor of philosophy, gave the first talk of the series just before Halloween. Her talk explored "Why Monsters Matter" to humanity, why they are so prevalent across cultures and human history, from the perspective of philosophy. According to Fitzgerald, "This topic really exemplifies the way that the humanities can engage us in our everyday lives."
Dr. R. Bruce Way, associate lecturer in the UT History and Foreign Languages departments, will give the next lecture titled "Samuel Woodworth's Wishful History of the War of 1812" Thursday, Dec. 8, at 7 p.m. at the Way Public Library, 101 E. Indiana Ave. in Perrysburg.
The lecture series continues through Aug. 2. The free, public talks are held at 7 p.m. at the Way Public Library.
For more information, contact the Humanities Institute at humanitiesinstitute@utoledo.edu or click here.