UT homepage updated to improve communication, user experience
---
The new homepage for The University of Toledo embraces advances in technology to improve communication and appeal to a broader audience.
Launched Dec. 5, the updated utoledo.edu features bolder headlines and additional opportunities to share news, a new video feature, and "UT at a glance" facts.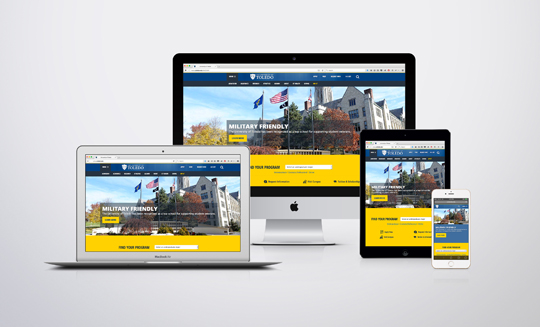 "Technology is ever-changing, and we are pleased to continue to keep the UT homepage and website current in trends, best practices, compliance and features that are appealing to our key audiences," said Kathleen Walsh, director of web development.
The University's Office of Marketing and Communications and the Center for Creative Instruction collaborated for months researching, designing and building the updated version of the homepage. Research showed key audiences desired interesting facts about UT prominently displayed on the website and had an interest in accessing high-quality videos about the University, which coincides with UT's efforts to increase the use of video to engage people and provide a prominent place to feature that work.
Prospective students will continue to be able to find their programs and easily connect with admission resources, which is a primary use of the University's homepage. There is extensive work underway to revise all of the web pages describing UT's majors, which will be easier to access with the homepage updates. Prospective students will benefit from those features in the new layout, as well as more easily learn interesting news and facts about the University they are looking to attend.
The responsive design works in all web browsers and adjusts to the user's technology to be viewed on a computer monitor, tablet or phone.