Rockets ready to battle Temple in 2015 Marmot Boca Raton Bowl
---
The Toledo Rockets will try to put an exclamation point on a memorable 2015 season when they play No. 24 Temple in the 2015 Marmot Boca Bowl in Florida Atlantic University Stadium in Boca Raton. The game will be played Tuesday, Dec. 22, at 7 p.m. and will be televised on ESPN.
Jason Candle, who will debut as UT's head coach in the bowl game, is enthusiastic about his team's bowl destination.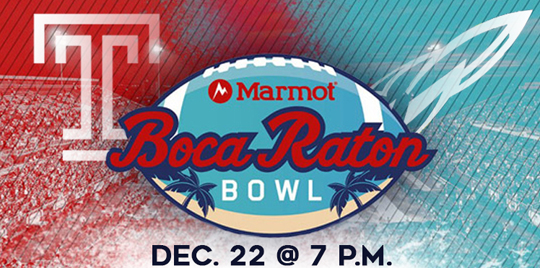 "The Marmot Boca Raton Bowl will provide our players with an outstanding bowl experience, as well as the opportunity to play against a very tough Temple team," Candle said. "Playing in the Boca Raton Bowl is an excellent reward for our players, coaches and everyone involved in our team's success."
Candle assumed the head coaching position Dec. 2 following the departure of Matt Campbell to Iowa State at the conclusion of the regular season. Candle had been an assistant at UT for the past seven years, the last four as the offensive coordinator.
The Rockets (9-2, 6-2 Mid-American Conference) are co-champions of the West Division of the MAC, sharing the crown with Northern Illinois, Western Michigan and Central Michigan. Toledo was ranked in the Top 25 for six weeks this season, rising to No. 19 in the AP poll Oct. 18. The Rockets defeated two teams from Power Five conferences in successive weeks, then No. 18 Arkansas Sept. 12 and Iowa State Sept. 19.
Temple is 10-3 and 7-1 in the American Athletic Conference. The Owls finished in first place in the East Division of the American, losing in the league championship game to Houston, 24-13, Dec. 5. Temple was ranked as high as No. 20 in the AP poll this season and currently sits at No. 24 in all three major polls.
Toledo leads the all-time series with Temple, 7-3, including a 1-1 record when the Owls were in the Mid-American Conference from 2007 to 2011. The two teams last faced in Philadelphia in 2011, a 36-13 Rocket victory.
The Rockets will be playing in their 15th bowl and fifth in the last six years. UT is 10-4 in bowl games, including a 63-44 victory over Arkansas State at the GoDaddy Bowl in Mobile last January.
The last time Toledo played in a bowl game in Florida was the 1971 Tangerine Bowl in Orlando. The Rockets beat Richmond, 28-3, the final victory in the Rockets' famous 35-0 run from 1969 to 1971.
Toledo won every road game on its schedule (5-0) for the first time since it went 12-0 in 1971. The Rockets were undefeated on the road in 1995, but had one tie (5-0-1). UT ranks No. 1 in the MAC in scoring defense (21.1) and rushing offense (213.2), and No. 2 in scoring offense (35.3) and rushing defense (115.5).