UT website redesign debuts
---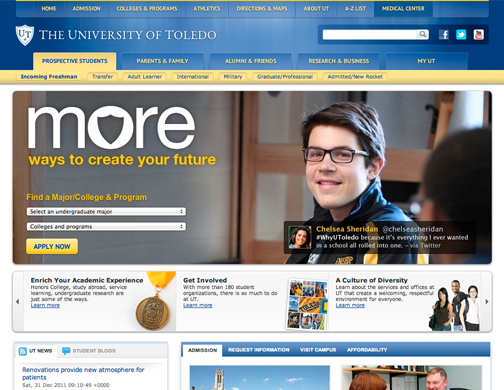 Visitors to The University of Toledo homepage were greeted with a complete new design when visiting this morning.
"Today marks the launch of a complete redesign at www.utoledo.edu with emphasis on using the site for student recruiting purposes," said Lawrence J. Burns, vice president for external affairs. "Our website has evolved over many years, and this new phase recognizes the important role of the web in attracting students from all populations.
"A team effort across the board was led by our Center for Creative Instruction. We sought input from not only those with expertise relative to web design, but also those who are on the front line as we work to attract more well-prepared students to The University of Toledo."
The timing of the web design was driven largely by the belief that prospective students and their families would spend a good deal of time shopping online for a college as they have additional free time over holiday break.
"Our web designers and tech experts have spent the last several weeks focusing exclusively on this critical project," said Sherry Andrews, director of the Center for Creative Instruction. "The new site will provide greater flexibility for many users and will present their content in a more dynamic and user-friendly way."
For example, the redesign will feature customized home pages for specific audiences; these home pages, available by tab selection, will contain special content to meet marketing and messaging needs.
In addition, the redesign means streamlined navigation, drop-down menus for quick linking, and deep footers at the bottom of pages to provide fast access to popular content.
Andrews stressed the redesign will not change content on the University's website, but present that information in a bolder, easy-to-use manner.