Thank-You Messages on Display for UTMC Healthcare Providers
---
Words of appreciation, encouragement and positive affirmations are on display for healthcare workers at The University of Toledo Medical Center who have cared for our community throughout the COVID-19 pandemic.
The personalized notes from members of the UToledo community were collected by the Office of University Marketing and Communications and put on display Friday in the hospital's Four Seasons Bistro.
The display recognizes not only the exceptional care provided by the UTMC staff during this challenging health crisis, but also the sacrifices they made to balance their demanding work on the frontlines of the pandemic with caring for their own families.
Included in the display is the full-page ad in The Blade newspaper with the headline "Thank you to our UTMC healthcare heroes" from the UToledo Board of Trustees. Leadership from UTMC and UT Physicians in partnership with AFSCME Local 2415 also distributed holiday turkeys for hospital employees to enjoy with their families as a way to show their appreciation.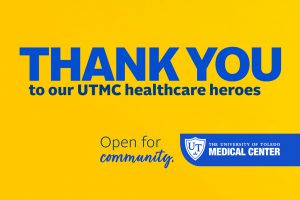 Members of the UToledo community are encouraged to show their support for UTMC's healthcare heroes on their social media platforms. Profile pictures and headers for Facebook, Twitter and LinkedIn are available on the Share Your UTMC Pride website.
Click to access the login or register cheese