Toledo loses bowl heartbreaker, 34-32
---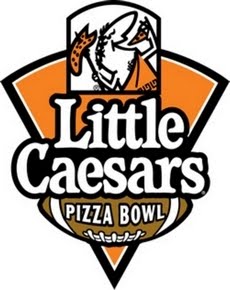 The Little Caesars Pizza Bowl delivered an exciting game Sunday night at Ford Field in Detroit. The Toledo Rockets lost on the last play of the contest as Jack Griffin kicked a 34-yard field goal to give the Florida International Golden Panthers the 34-32 victory.
It was the first bowl game for FIU, co-champions of the Sun Belt Conference; the school established its football program in 2002.
The Rockets blasted off to a 21-7 lead by halftime. Junior running back Adonis Thomas led the way with an 87-yard touchdown run early in the second quarter. With that play, he tied a record for the longest TD run that was set at the Motor City Bowl in 1999.
The Golden Panthers clawed back in the second half. T.Y. Hilton sparked the momentum shift with an 89-yard kickoff return for a touchdown to cut the lead to 24-14.
Turnovers proved costly for Toledo. Rocket quarterback Terrance Owens threw three interceptions in the second half, and FIU cashed in on those mistakes, scoring 14 points.
After a field goal to start the second half, the Rockets were outscored, 21-0, as the Golden Panthers took a 28-24 lead with a little more than seven minutes left in the game.
A blocked punt led to an FIU field goal to put the Golden Panthers up 31-24 with 3:18 left on the clock.
But Toledo roared back, going 62 yards on five plays in two minutes to score a touchdown on a 14-yard quarterback keeper when Owens ran it in the end zone.
Head Coach Tim Beckman signaled for the Rockets to go for two points.
Sophomore wide receiver Eric Page had been quiet most of the night but the All-American came up with a huge two-point conversion catch to give Toledo a 32-31 lead with 74 seconds left in the game.
But the Golden Panthers converted a fourth-and-17 play to help set up the game-winning field goal.
Thomas was named the Capital One Player of the Game; he carried the ball 24 times and racked up 193 yards and scored two touchdowns.
Toledo finishes the season 8-5, and FIU improves its record to 7-6.
Read more here.