UT emergency medicine residents compete with filmmaking skills
---
For the second year in a row, The University of Toledo Medical Center Emergency Medicine Residency Program has made it to juried competition — for a funny video.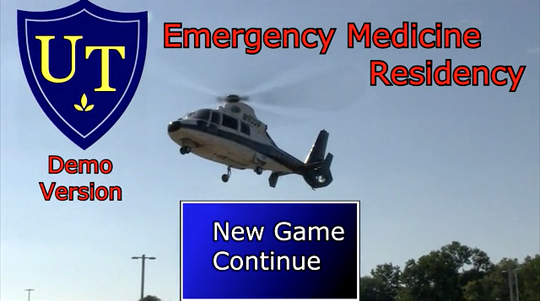 The video, created by second-year resident Dustin Dean, is one of 13 in the competition for the fifth annual Best in Emergency Medicine Video Challenge. Each video shows why that residency research program is the best in emergency medicine, and this year the theme is video games.
Dean's humorous video features emergency medicine residents in a video game using skills to treat patients and navigate residency life to advance levels. It even has a Psy look-alike who comes in complaining that he can't dance and trying to get pain medications.
"I enjoy the competition, and it's always fun to see what other residencies bring to the table," Dean said. "I'm proud of the video our residency created and like last year, I hope it creates a few laughs."
This year's video is called "UTMC Emergency Medicine Residency: The Game" and has received more than 1,000 votes, landing it in the juried competition.
Making it to the competition means a $100 Apple gift card for Dean and a chance at cash prizes for both him and the UTMC residency program.
The first-place resident will receive $5,000 plus $10,000 for his or her residency program; second place will receive $2,500 plus $5,000 for the program; and third place will receive $1,000 plus $2,000 for the program. The winners will be announced Saturday, Feb. 15.
Last year, Dean's video, "UTMC EM Residency: The Movie," won third place.
To watch this year's video, visit emp.com/utmc-emergency-medicine-residency-the-game.
Last year's video can be seen at emp.com/utmc-em-residency-the-movie.