Toledo to face Wright State in first round of postseason WNIT March 16
---
Toledo (17-14) will entertain Horizon League member Wright State (23-10) in a first-round matchup in the 2018 Postseason Women's National Invitation Tournament (WNIT) Friday, March 16, in Savage Arena.
Tip-off time between the Rockets and Raiders will be 7 p.m.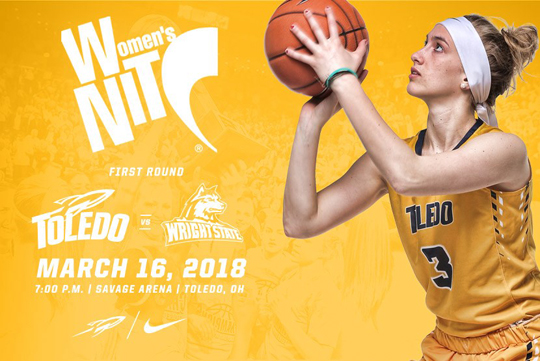 UT is one of 32 at-large qualifiers in this year's event and one of three Mid-American Conference representatives, along with Ball State and Miami, in the 64-team field.
Toledo will be appearing in the Postseason WNIT for a sixth time under 10th-year Head Coach Tricia Cullop and 11th time overall. The Rockets are 20-9 (.690) in the post-season tourney, including 13-4 (.765) under Cullop, and previously reached the WNIT (formerly NWIT) in 1989, 1990, 1994, 1998, 2003, 2010, 2011, 2012 , '203 and 2015. UT also has won its first game in the Postseason WNIT in each of its last five appearances.
Most recently, the Midnight Blue and Gold advanced to the second round of the 2015 Postseason WNIT with a home victory against WSU, 72-64 (March 20). UT's season came to an end with a 74-58 home setback against Michigan (March 23).
Toledo enters the post-season with a 17-14 overall record and an 8-10 league mark to finish fourth in the MAC West Division.
Junior Kaayla McIntyre, junior Mikaela Boyd and senior Jay-Ann Bravo-Harriott led Toledo offensively, scoring 16.1, 12.7 and 12.4 points per game, respectively. McIntyre and Boyd earned third-team All-MAC honors, while Bravo-Harriott captured honorable mention accolades.
Tickets for Friday's first-round game are available online for $15 for elite reserved, $12 for general admission and $6 for youth 12 and younger for general admission.
Women's basketball season ticket holders with suite, loge, club, courtside or elite season tickets can sign into their accounts and purchase their same seats. General admission seats also may be purchased online.
In addition, UT students will receive free admission with a valid ID for the first-round game.
Tickets are on sale in the UT Ticket Office or by calling 419.530.GOLD (4653).
Parking for the first-round contest will follow the regular-season parking guidelines. For donors and season ticket holders that have requested basketball premium parking passes, use the BKB parking postseason #1 pass in your pass booklets. Fans who have season-parking cards can also use these to park.
Also, the Joe Grogan Room will be open to Rocket Fund donors.
Tournament officials award an automatic qualifying berth to each of the nation's 32 conferences. The spot goes to the team that finishes the highest in the regular-season conference standings that does not advance to the NCAA Tournament. If there is a tie, the WNIT abides by the conference tiebreaker. A team earns the berth regardless of its overall record. A total of 32 teams are then given an at-large berth; a team must have an overall record of .500 or better to be considered.
The Postseason WNIT is owned and produced by Triple Crown Sports, based in Fort Collins, Colo. Triple Crown Sports also organizes men's and women's college basketball tournaments in Cancun and the Preseason WNIT. Triple Crown also produces WNIT concept events in NCAA D-I softball and volleyball, which debuted in 2017.
For complete information on the tournament, visit womensnit.com.