Toledo women's basketball team receives at-large bid to WNIT
---
The Toledo women's basketball team has received an invite to the 2015 Women's National Invitational Tournament (WNIT).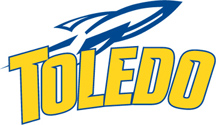 The official WNIT bracket, which will include matchups and dates, will be announced later tonight by 11:30 p.m.
UT will appear in the WNIT for the fifth time in seven seasons under Head Coach Tricia Cullop.
The Rockets are one of 32 at-large qualifiers in this year's event and one of six Mid-American Conference representatives — along with Akron, Ball State, Buffalo, Eastern Michigan and Western Michigan— in the 64-team field.
First-round action will tip off Wednesday, March 18, and conclude Friday, March 20.
Second-round games will take place March 21-24, round three March 25-27, quarterfinals March 28-30, and semifinals April 1-2.
The championship game will be played Saturday, April 4, and will be televised live on CBS Sports Network at 3 p.m. Eastern.
All games are hosted by participating schools.
The Postseason WNIT is owned and produced by Triple Crown Sports based in Fort Collins, Colo.
For complete information on the tournament, visit womensnit.com.