Counseling center staff to be honored for sexual assault advocacy
---
This Tuesday, members of the Sexual Assault Education and Prevention Program of The University of Toledo Counseling Center will be recognized for their work.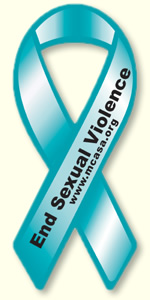 The first Women's Appreciation Dinner on Tuesday, April 8, will honor extraordinary women supporters within the UT community and Toledo area. Of those being honored, four are from the Counseling Center's program.
Angela Spoerl, a clinical social worker in the center, Ashley Leonard, a graduate assistant in the center, Tamika Mitchell, dean of students, and Cecilia Rivera, Greek life coordinator, are the team of women behind the Sexual Assault Education and Prevention Program.
The program for which the Counseling Center assumed leadership during spring 2013, strives to educate on the issue of violence against women and advocates for survivors of sexual assault. Members of the program offer emotional support, help finding resources, and offer accompaniment to medical exams after sexual assault.
"When a student suffers a sexual assault, our advocates help them deal with it emotionally," said Dr. Stanley Edwards, director of the Counseling Center.
For more information on the program and the Counseling Center, click here.
"Coming to college can be a great and positive experience, but it also can bring lots of stress and struggles," Edwards said. "There are times when students need emotional support to get through their college career."