South African Consul General to visit campus
---
Vuyiswa Tulelo, the South African Consul General, will engage in a brief meet-and-greet event Thursday, May 16, from 11 to 11:40 a.m. in UT's Student Union Room 2584, where she will make a few remarks about South Africa and education over hors d'oeuvres.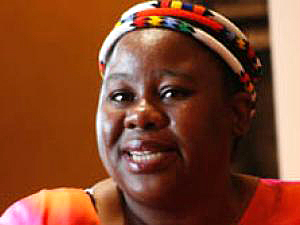 The consul general will discuss her country's ongoing efforts at consolidating democracy and freedom, as well as efforts to promote business ties between Ohio and South Africa. The event is open to UT students, faculty and staff.
"She will help students gain an appreciation of how much Africa in general is transforming," said Dr. Rubin Patterson, professor and chair of sociology and anthropology and director of the Africana Studies Program. "Africa has changed so much recently; for instance, it has become the fastest-growing economic region in the world.
"Africans are more confident about their future, and professional external observers are aware of new opportunities on the continent. American citizens tend to be less informed about these changes on the ground, though we intend to change that at The University of Toledo."
As Africa's growing middle class continues to drive economic development across the continent, American companies such as Procter & Gamble, Ford and Marriott have ramped up investments in Africa, Patterson added.
UT also is in the early stages of discussions with potentially partnering institutions in South Africa and Botswana. For instance, the Botswana Ministry of Education and Skills Development has expressed interest in the enrollment this fall of more than 100 post-graduate students at the University.
"The consul general's visit and a recent visit by officials from the Botswana Embassy are part of an ongoing effort at UT to make Southern Africa a region of meaningful, self-sustaining partnerships for UT," Patterson said. "Through Southern African engagements, we want to contribute to globalizing the educational experience at UT by collaborating internationally on real-world projects."
Tulelo also will visit with UT President Lloyd Jacobs and Toledo Mayor Mike Bell, and she will give a formal speech to Toledo City Council later in the day.