Professor receives recognition at Access to Justice Awards
---
Dr. Celia Williamson, professor of social work and director of the Human Trafficking and Social Justice Institute, won the Community Advocacy Award May 10 at the 18th annual Access to Justice Awards.
The Advocates for Basic Equality and Legal Aid of Western Ohio's Access to Justice Awards recognize and celebrate individuals and organizations for their contributions to promote and provide access to justice for the underprivileged and underserved.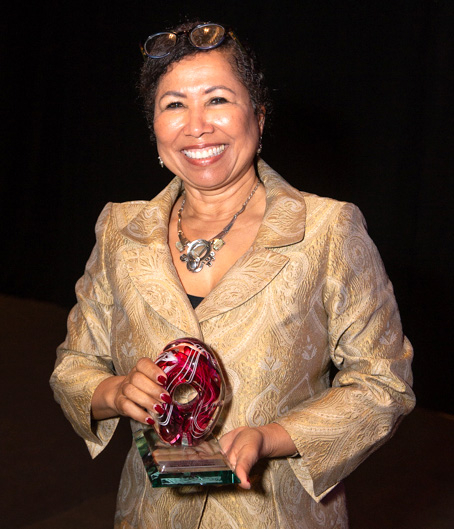 Williamson is well-known for her community advocacy against human trafficking and domestic violence, along with her extensive research into the subjects and finding ways to combat them.
The Community Advocacy Award is given to an organization or individual who has made a difference in the lives of low-income or disadvantaged persons and communities. It is intended to recognize grass roots organizing, public education, or community advocacy by an individual or group in northwest Ohio.
"The award means that the community recognizes and acknowledges that the work I'm doing is important and is on behalf of the vulnerable, poor and oppressed, and that human rights should be protected," Williamson said.
Williamson has devoted much of her time addressing the problem of human trafficking. The UT alumna has given more than 200 presentations on the topic; completed several articles and reports; and edited two books on sex trafficking. She is a chair of the Research and Analysis Subcommittee for the Ohio Attorney General's Human Trafficking Commission and is the editorial manager for the Journal of Human Trafficking.
In 1993, she founded the first and oldest anti-trafficking program in Ohio titled Second Chance in Lucas County. She later established the Lucas County Human Trafficking Coalition.
In addition, Williamson is both the founder and president of a National Research Consortium on Commercial Sexual Exploitation and founder of the annual International Human Trafficking and Social Justice Conference.
Recently, she has worked with the community to develop Partners Against Trafficking in Humans, known as the PATH model, which helps victims transition to survivors and eventually "thrivers."
Williamson has been recognized for her trailblazing work, receiving the YWCA Milestone Award, The University of Toledo Gold T Award, Ohio Liberator Award and more.