Men's basketball team set to leave for Italy
---
Toledo will return to Europe for the first time in four years with a trip to Italy from Wednesday, Aug. 9, to Saturday, Aug. 19.
The Rockets, who traveled to Greece in 2013, will play two games against Serbian club team, KK Kolubara, in Rome Friday and Saturday, Aug. 11-12, one contest vs. a Spanish European Basketball Academy club in Montecatini Monday, Aug. 14, and a final matchup vs. an Italian All-Star squad at the United States Army Base in Vicenza Wednesday, Aug. 16.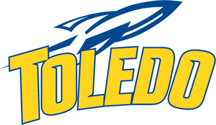 "From a basketball standpoint, this is a tremendous benefit for us this year because we have a lot of young guys who haven't played together," Head Coach Tod Kowalczyk said. "Our entire team is becoming familiar with our offensive and defensive schemes, which will be a huge benefit when our official practices begin in the fall. It's also going to be a great bonding experience, which I think will help our team chemistry to grow for the upcoming season."
Another benefit of the trip to Italy will be the opportunity to view different cultures and see a different part of the world.
"We are going to visit a lot of historical sites and learn about various Italian cultures and traditions," Kowalczyk said. "This will be very similar to our trip to Greece in that our players will receive memories of a lifetime as well as a different outlook of the world."
During their time in Italy, the Rockets will venture to historic sites and visit some amazing places such as the Colosseum, the Ancient Roman Forum, Trevi Fountain, Pantheon, Vatican City, St. Peter's Basilica, Florence, Venice, the Dolomite Mountains and more.
Kowalczyk added the trip is being paid for with donations from the annual Rocket Roundball Social.
"We would like to thank the numerous people who have made our Rocket Roundball event extremely successful," Kowalczyk said. "Our program wouldn't be able to have this unique opportunity without their support."
For updates throughout the trip, check back with UTRockets.com and follow @ToledoMBB on Twitter.