New UT portal to connect techies, creators in NW Ohio
---
The Toledo Technology and Talent portal at TnewTech.com showcases technology being developed in northwest Ohio.
Social media features on the site include technology news posts, an online community, discussion groups, file sharing, and a directory of techies, tech startups and tech talent.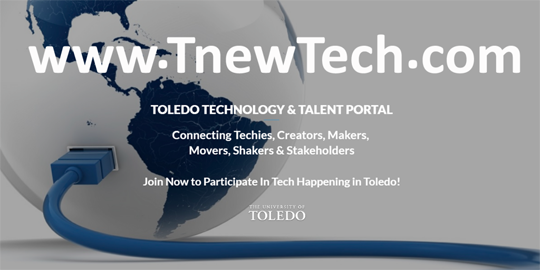 UT students, faculty and staff, as well as area techies, tech startups, and those interested in technology, business, entrepreneurialism or economic development are encouraged to participate in the soft launch by visiting the portal, creating a profile, introducing themselves, and posting on topics of interest.
The public launch is scheduled for Tuesday, Sept. 12, at 5:30 p.m. at a TNewTech event at The University of Toledo Launchpad Incubator.
The portal was developed as a UT master's degree capstone project.
"This will further The University of Toledo's Launchpad Incubator mission to encourage technology, entrepreneurship and economic development in the northwest Ohio region," UT graduate student Lonn Dugan, said.